LOTTERY TICKET Opens August 20! Enter to Win Passes to the St. Louis Advance Screening!
LOTTERY TICKET OPENS AUGUST 20 NATIONWIDE.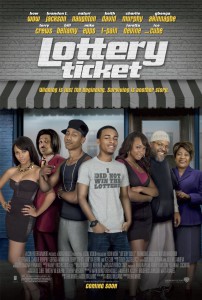 Enter for your chance to win a pass, good for two!
Synopsis:
Kevin Carson, a young man living in the projects, wins $370 million in a nationwide lottery. When his opportunistic neighbors discover he has the winning ticket in his possession, Kevin must survive their greedy and sometimes even threatening actions over a three-day holiday weekend before he can claim his prize.
In order to enter the contest, become a fan of ReviewSTL on Facebook and suggest ReviewSTL.com to all your friends. Then post a comment on the ReviewSTL fan page telling us what would you do if you won a $370 million lottery??? NO PURCHASE NECESSARY. PLEASE REMEMBER TO READ THE RULES!
SCREENING IS Monday, AUGUST 16th.
Good luck! We hope to see you at the movies!