Local H to Play 20th Anniversary Show
Local H will be appearing at the Ready Room on Thursday, August 18, for the "As Good As Dead" 20th Anniversary show.
The band has been around for just over 25 years now, having released 11 albums; one greatest hits record and a live album in 2005. While many bands from the 90s have come and gone, Local H has managed to maintain a relatively strong following. Reviewstl.com recently talked with Scott Lucas, lead singer and guitarist of Local H.
The band has been around for just over 25 years now. What do you think has been the driving force that has kept the band relevant with older fans and attracted new ones?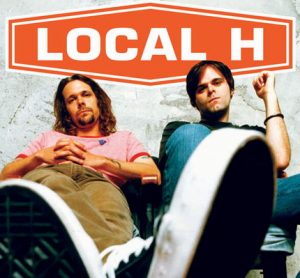 "I don't know. I think there's something about the way we do things that connects with a certain group of people. It's very, uh, I want to say cultish. I think they go to our show for a more personal connection than if you go see a band that you're not gonna get to talk to or even be in the same room with. I think that's it. It's hard to say."
Is there an album that you're more proud of over others?
"Yeah, I was really proud of 'Pack Up The Cats,' when we made that. 'Whatever Happened To PJ Soles', I think there's a nice hand-made quality to that record that I'm not sure I realized would happen while we were making it. It really doesn't feel manufactured. I'm really proud of our new record (Hey Killer). When I heard the mixes of it, I was like wow, this is pretty good."
The band has put out a good amount of cover songs. How do you choose a particular song to cover?

"Number one, it's just whether or not you like the song. Then you ask yourself if we can add something to this so we won't just sound like a shitty cover band. That's usually it, whether or not we can actually make it your own or not. That's why I like covering songs that don't really sound anything like you."
How did you prevent fame from changing you as a person?
"We're not surrounded by a bunch of yes men or a bunch of people who will kiss your ass. We never got to the point where we could be that sort of thing. We never sold a million records and never really had to worry about fame because we never really had it. In that respect it's super good for the band because we are always trying to prove ourselves and write great songs. There's never been a point where we've been like, 'we made it, f*ck it,' so that's a really good thing. That's been good for the records."
What made you decide to go on a tour to celebrate the 20th Anniversary of "As Good As Dead"?
"It's a good idea. Once we hit upon the make-up of the show on how it would be two drummers and two different sets, I was all about doing that show. Then I was like, it would be fun to do that show more than once. So, then we just set up a tour. We just wanted to get it to whoever wanted to see it."
What can fans expect from the show on the 18th?
It's sort of like the mega-Local H show. There's no opener. We're kind of opening for ourselves, which is cool. It's going to be two different sets. I like the first part because it's fast-moving and tight, then you get the second headlining set where you can just stretch out and relax. It was kind of cool to be able to do that every night. It was like being able to have your cake and eat it too."
With such a large catalog of songs, how do you decide which ones to play night in and night out?

"That can get tough and the cool thing about this is that it's easier. One of the sets is 'As Good As Dead,' so that kind of gets rid of all that stuff. You can sort of play whatever you want during the sets. It can get tough to make sure you cover the bases of what people hope to hear and still play what you're passionate about. Nobody wants to see anyone go through the motions and it can get tricky. The more records you make, the trickier it gets."
I know you played St. Louis just around a month ago at Wayback Pointfest. What is the biggest difference in playing a large venue like Hollywood Amphitheater and a small place like Ready Room?
"The main difference is the surroundings. We're not that much different in a small place than we are in a large place. The cool thing about that show is that we only had a half hour to play and that was one of the more intense shows we have ever played. We struggled to fit everything into that half hour and it was really fun. It was a pretty intense show and I'm pretty proud of that show."
Local H has played in St. Louis fairly often over the years, do you have any fond memories of the city?
"Yeah, we have friends in St. Louis and it's always wonderful to see them. We've been playing St. Louis for a long time and it was one of the first towns to sort of welcome us. I'm always really happy when we have a show booked in St. Louis."
Tickets for Local H's show at the Ready Room on Thursday, August 18 are $15 in advance and 18 the day of show. Doors will open at 7 p.m. with the show starting at 8. For more information visit thereadyroom.com or ticketfly.com.