Lisa McMann, New York Times Best Selling Author, Coming to St. Louis to Read From Her Latest – "Gone"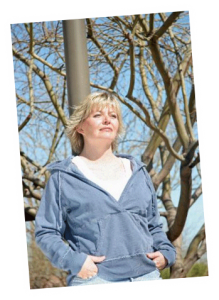 New York Times bestselling author Lisa McMann will be in St. Louis on February 22, at the St. Louis County Library Headquarters on Lindbergh.
Lisa's first two books, "Wake
" and "Fade
," are part of a trilogy that has been read by millions. Both books have made the New York Times 'Best Sellers' list, the latter staying in the top ten children's books for 11 weeks.
The third and final installment in the series, "Gone," was just released yesterday – February 9, 2010 (Order here from Amazon
). About writing the last book of the series, McMann says, "writing 'Gone,' knowing it was the end, was so difficult that I procrastinated quite ferociously. I knew that once I started, I'd have to go underground like I always do when I write a book–I just attack it full on and write until I'm crooked and crazy every day for a month or six weeks or so, surfacing to order takeout or absent mindedly say hello to my children and husband. But this time it was different. Not only would it have to be a perfect ending to a trilogy, but I'd have to attack it without transferring my own sad feelings onto the pages. I needed to be in the right place in my head before I could start."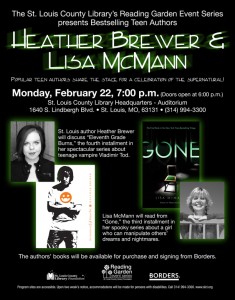 On Monday, February 22, Lisa will appear at the St. Louis County Library headquarters with local author Heather Brewer ("Chronicles of Vladimir Tod" series
). Don't miss the chance to hear Lisa read from her latest book, "Gone," and celebrate the supernatural!
Directions to the St. Louis County Library Headquarters: