Let Me In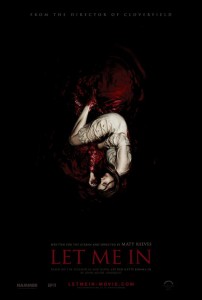 Ever since this remake of the Swedish film, Let the Right One In, was announced I've encountered nothing but trepidation. Why? Well, because the original film was about as perfect as you can get within the genre. It had perfect tone, great acting, and beautiful visuals. Luckily, director Matt Reeves was smart enough to do an almost literal remake with a few flourishes of his own, which end in a nicely tied up package.
Let Me In, as described by director Reeves, is a bit of a Romeo and Juliet story.  Owen (Kodi Smit-McPhee) is a bullied young man, whose life changes upon the arrival of the mysterious Abby. Abby only ventures out at night, and walks shoeless through the snow covered landscape of Los Alamos, New Mexico. The two quickly forge a relationship, despite Abby's assurances that she can't have friends. We are revealed to Abby's other nature, while Owen is left in the dark throughout much of the film. How will Owen respond to the sinister things that happen around Abby?
It might draw comparisons to the immensely popular Twilight series, only due to a surface similarity of a vampire love story. Make no mistake the two are completely different types of vampire love stories. There is no glorifying the the condition that Abby has, it is dark, sinister and violent. There are no promises to dine on the blood of animals, blood is shed, and in healthy amounts in Let Me In. The romance element between two children might be played up, but it serves a great contrast for suspense/horror film that it is.
Fans of the original film might notice that it is almost a shot for shot remake, with a few slight differences.  Those slight differences are enough to make the film stand on its own merits, but I doubt all fans of the original will view it that way.  Reeves perfectly captured the dark sense of the original, with adding a slightly more human element than the original.
Let Me In is beautifully shot, with solid acting from rising child stars Chloe Moretz and Kodi Smit-McPhee. The brilliance of the child actors in this film really highlight the disturbing material they have been placed in. The two handle it beautifully, and the relationship shines brightly through the violent undertones of the film.
If you are into vampire films, and want a bit of a slow burning suspense horror film, then Let Me In is just the film for you. Although, if for some reason you haven't seen the original, it might be worth it to catch that one as well. This might not be as good as the original, but it is respectful enough of its origins that it still plays out quite nicely.
Grade: B