Jack Goes Boating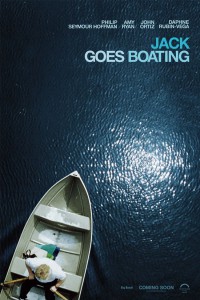 Jack Goes Boating is Academy Award winner Philip Seymour Hoffman's directorial debut, and is based on a play of the same name by Robert Glaudini who also did the screenwriting duties for the film.
The film follows Jack (Philip Seymour Hoffman), a single overweight New York limo driver who lives in his uncle's basement, as he begins a tentative relationship with a neurotic woman named Connie (Amy Ryan), who was introduced to him by his only two friends, a married couple by the name of Lucy and Clyde (Daphne Rubin-Vega and John Ortiz). The film follows Jack's progress as he tries to improve himself for Connie.
One of the most impressive things about the film is that it retained almost all of it's cast from the original play. Philip Seymour Hoffman, Daphne Rubin-Vega and John Ortiz all reprise the roles they originated on stage. Only Amy Ryan is new, as she replaces Beth Cole in the role of Jack's love interest Connie. The downside is that the film plays out more like a stage play than it does a film production.
I cannot find one single flaw with the cast, every single actor and actress in this film gives stellar performances, but the flaw of the film is in the plotting and pace. Every single moment of this film drags on, and despite it being less than an hour and a half on runtime, the pace it sets make it seem considerably longer.  In fact, the cast is so good, you almost with that they were paired up for another film. No doubt their familiarity with working with each other on stage transferred well to film, but after nearly an hour and a half, I still couldn't tell you what really happened that mattered.
It often feels like Jack Goes Boating would have been better served as a short film, because so much of the film is set in silence, and static scenes that might have worked brilliantly on stage, but feel completely flat on film.
As much as I like Philip Seymour Hoffman, I can't get behind his slow paced character study. He might have been better served going with a less personal project for his directing debut. If you are big fan of Hoffman (which let's face it, who isn't?) you might be interested to check out the film, but I would recommend a wait for DVD if you are really curious.
Grade: D+