Leonardo Dicaprio to star in Mel Gibson's Viking Movie
Yeah, you read that right. Leonardo Dicaprio appears to be in a deal with Graham King about starring in Mel Gibson's next directorial effort which surrounds itself around Vikings. Maybe a return to a Braveheart style of film will put Mel Gibson on the road to recovery, that is back to being a true A-lister? I'm not really sure if the guy cares about his amount of fame. He already has enough money to make a mattress out of hundred dollar bills….
From Variety.com
---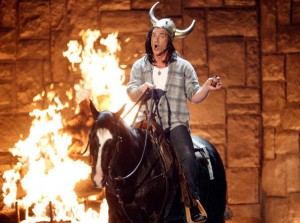 Mel Gibson will direct and Leonardo DiCaprio will star in an untitled period drama about Viking culture. William Monahan is writing the script.
Graham King will produce with Gibson and Tim Headington in a co-production of King's GK Films and Gibson's Icon Prods. Shooting is expected to begin in fall 2010, meaning that if everything falls into place, it would be the next directing effort for Gibson.
There is no distributor at the moment, but Gibson and King often make their films outside the studio system and secure distribution later.
The principals confirmed the project but would not divulge many details. DiCaprio, who has long been fascinated by Viking culture, will play one in a storyline that will be as unsparing as Gibson's other period directing efforts, "Braveheart," "The Passion of the Christ" and "Apocalypto."
The connective tissue is King.
The producer teamed with DiCaprio and Monahan in the Oscar-winning drama "The Departed" and just worked with Gibson and Monahan in the Martin Campbell-directed drama "Edge of Darkness." King also just produced Monahan's directorial debut, "London Boulevard," the Monahan-scripted adaptation of the Ken Bruen novel, with Colin Farrell and Keira Knightley starring.
The Viking film will be DiCaprio's first picture with Gibson.
"This will be an awe-inspiring story, created with some of the industry's finest cinematic talent, and I am just over the moon to be making this film with Mel, Leo and Bill," King said in a statement after the principals confirmed the project to Daily Variety.
Aside from "London Boulevard," King and his GK Films just completed "The Rum Diary" with Johnny Depp and Aaron Eckhart and Emily Blunt starrer "The Young Victoria," latter of which is being released this month by Bob Berney's Apparition.
DiCaprio will likely take a film before putting on the Viking horns. He just completed the Christopher Nolan-directed "Inception" for Warner Bros. and will next be seen in the Martin Scorsese-directed "Shutter Island," which Paramount releases Feb. 19. Gibson just completed the Jodie Foster-directed "The Beaver." Gibson and Monahan are repped by WME, DiCaprio by Rick Yorn and Jennifer Killoran.
---
It seems everything in Hollywood works in trends. One superhero movie takes off, they have to make 10 more superhero movies. One movie with a vampire takes off, 10 more movies and TV shows starring vampires. It is apparently that Werewolves are next on this trend, but what is after that? Well, Vikings are pretty awesome, so why not them? You have both Thor and this film to raise the bar. Let's see if it takes off….