Leo is 'King of the World' in "Shutter Island," Kevin Smith's "Cop Out" Takes Second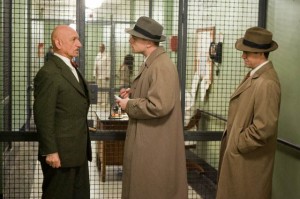 The weekend box office estimates are in, and Martin Scorsese and Leonardo DiCaprio have came out on top once again. "Shutter Island," which made almost $52.9 million last week during it's first week was number one again this weekend. The film grossed another $22.2 million, bringing it's grand total to just over $75 million domestically. The movie had a budget of $80 million dollars.
Kevin Smith's latest film, "Cop Out," came in a close second this weekend with $18.56 million. This marks Smith's first directing gig on a movie that he has not written himself. He said that when he first read the script, written by brothers Mark and Robb Cullen, he immediately fell in love with it. The movie stars Bruce Willis and Tracy Morgan, as two NYPD partners who are trying to recover a rare baseball card that was stolen from Willis' character. They get into more than they expect, when they cross paths with a gangster obsessed with baseball memorabilia.
When asked how he felt about taking second place to a Martin Scorsese film, Kevin Smith said, "It's a f****** honor to follow The Man."
"The Crazies," starring Timothy Olyphant is a remake of the 1973 George A. Romero film. Many critics are giving the film praise, giving it a lot of credit for the genre. It opened this weekend in third, with a little over $16.5 million dollars.
Here are the rest of the box office stats for February26-28:
TW
LW
Title (click to view)
Studio
Weekend Gross
% Change
Theater Count / Change
Average
Total Gross
Budget*
Week #

1

1

Shutter Island
Par.
$22,200,000

-45.9%

3,003

+12

$7,393

$75,076,000

$80

2

2

N

Cop Out
WB
$18,565,000

–

3,150

–

$5,894

$18,565,000

$30

1

3

N

The Crazies
Over.
$16,521,000

–

2,476

–

$6,672

$16,521,000

$20

1

4

3

Avatar
Fox
$14,000,000

-13.8%

2,456

-125

$5,700

$706,904,000

–

11

5

4

Percy Jackson & The Olympians: The Lightning Thief
Fox
$9,800,000

-35.8%

3,302

-94

$2,968

$71,214,000

$95

3

6

2

Valentine's Day
WB
$9,505,000

-43.0%

3,578

-87

$2,657

$100,358,000

$52

3

7

6

Dear John
SGem
$5,000,000

-29.9%

3,006

-56

$1,663

$72,624,000

$25

4

8

5

The Wolfman
Uni.
$4,123,000

-58.3%

3,043

-180

$1,355

$57,244,000

$150

3

9

7

Tooth Fairy
Fox
$3,450,000

-20.8%

2,249

-274

$1,534

$53,866,000

$48

6

10

8

Crazy Heart
FoxS
$2,540,000

-14.3%

1,148

+59

$2,213

$25,087,000

$7

11

11

13

The Blind Side
WB
$1,295,000

-10.8%

945

-115

$1,370

$248,813,000

$29

15

12

11

The Book of Eli
WB
$1,130,000

-40.2%

975

-480

$1,159

$92,524,000

$80

7