Kristen Bell Cast in Evan Greenberg's "Dance of the Mirlitons"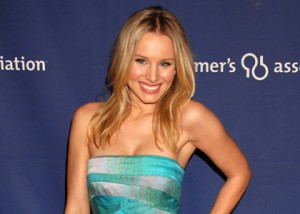 Kristen Bell is now involved in two high profile projects involving dance. The first of which is Darren Aronofsky's Black Swan, and now she has signed on for a role in Evan Greenberg's Dance of the Mirlitons.
In the film Bell will play the mother of a young and ambitious, slightly overweight ballerina who must survive the trials of a highly competitive dance school. Bell will play the girl's overbearing and obsessive mother.
The role of the young girl has yet to be cast, but director Evan Greenberg says, "We're looking to discover an unknown,"
The film has been on Hollywood's radar for quite some time when it landed on the "Blacklist", a list of best unproduced scripts, along side films like Juno. Warner Independent snapped up the rights to the production, but the script quickly fell into limbo with the studio. Greenberg has recently reacquired the rights with producers Daniel Dubiecki and Joel Michaely.
Sounds like this project has a bright future. Although, as much as I like Bell, I don't know how believable she looks as a mother of a 12-year-old. Wasn't it just a few years ago she was still playing high school students?
What do you think? Let us know in the comments!