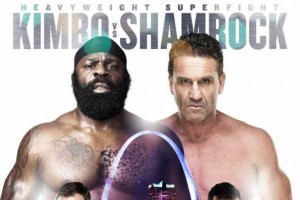 This fight has been seven years in the making.
Kimbo Slice and Ken Shamrock will finally square off Friday, June 19 at Scottrade Center in St. Louis.
"This is a fight that should have happened many years ago," Bellator President Scott Coker said. "I know that it's a fight that's been under everybody's skin for several years."
Shamrock and Slice were scheduled to fight in 2008, but just days before the fight, Shamrock suffered a cut during training and was forced to withdraw.
"I'm not even going to comment on that," Slice said. "I just hope he fights. I hope he don't pussy out. You do stuff like that when you're scared."
Shamrock, 51, said training for this fight was the most difficult thing he's ever had to endure.
"I've always trained hard and been in pretty good shape," Shamrock said. "This was the toughest and most difficult thing I've had to do in my career. I've been tested more than I've ever been tested training for a fight. Any athlete who has ever been in this position is either made or broken in the training."
Shamrock has a career MMA record of 28-15. He is considered to be one of the pioneers of MMA fighting.
"This is the most humbling thing I've ever had to do," he said. "This training has brought me back to my grass roots."
Shamrock recently tweeted out photos of his physique following a training session. The 51-year-old fighter looks to be in the best shape he's ever been in.
Slice said he has not seen the photos and does not care to see them.
""I tip my hat to Ken Shamrock who's still fighting at 51   and in great shape," Slice said. "I'm still going to knock his punk ass out. I tip my hat off to Bernard Hopkins who's still fighting in his fifties. That's really not even that old and I'm right around the corner from there."
Slice (4-2) is 41.
Both men were asked if they plan to continue fighting after the fight on June 19.
"I'm going to live this as long as I can live it," Shamrock said. "I hope people would enjoy it with me."
Slice, on the other hand, said this is just the beginning of his relationship with Bellator and Spike TV.
"This is not a one time deal with me," he said. "We're going to see how long we can go with it. I'm in it for the long haul."
Slice confirmed that he has signed a multi-fight deal with Bellator.
While Shamrock hasn't fought in five years and Slice has been out of MMA for a few years, both men are expecting a competitive fight.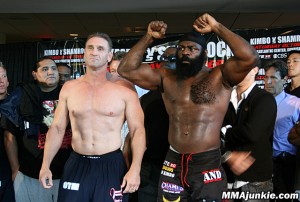 "I don't think it's a secret that Kimbo Slice brings the fight," Shamrock said. "Everything I know about him and respect about him, is that when he gets in the ring, he brings it. I don't think there's any question about what kind of fight this is going to be. There's a strategy on the mind of both men in a fight and they come in to see which one will work best. Right now there is no tomorrow, I'm focused on Kimbo and that's it."
Slice said he has worked on a few things to improve his game. The former street fighter was once looked at as just being a brawler, unable to take a fight to the ground.
""I've always had love for MMA," he said. "I was tempted to throw a few kicks and takedowns in boxing. Now that this opportunity came, I have the love for the training and the passion to fight. I'm a well rounded martial artist now in the cage, I'm no longer one dimensional."
Tickets are still available for the fight through Ticketmaster.com.
Spike TV will air the fight live at 8 p.m. on Friday, June 19.