Kiefer Sutherland Health Problems Stall Set of "24"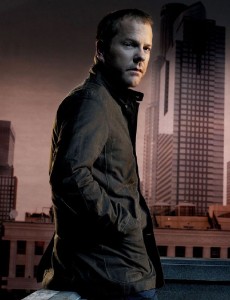 20th Century Fox has halted production on the set of the hit series, 24, after lead actor Kiefer Sutherland experienced a ruptured cyst. Fans shouldn't be alarmed, Sutherland is going to have minor surgery, and the series should start back up filming in just a few days.
"While Kiefer Sutherland is frustrated to miss even one day of work, he and Fox decided together that it would be best to complete this minor elective procedure now as a precaution as opposed to six weeks from now when production wraps. He looks forward to returning to work next week," said his rep.
"We are temporarily suspending production of 24 while our friend and colleague Kiefer Sutherland undergoes a medical procedure. We hope to resume production shortly and do not anticipate any disruption in the broadcast of this season's episodes," said a FOX rep.
I'm thinking that this was a piece of news drummed up by PR people. The headlines for it are sensationalized, and they make you think that Sutherland had a massive coronary while on set, but it was something that was relatively minor. It does help put a bit of the spotlight back on 24 for a bit, after TV land has been drooling over the return of Lost.