Kara DioGuardi gets American Idol Contract Extension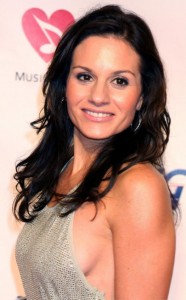 Well, good news for all you American Idol fans, Kara DioGuardi will be back for season 9 of the popular singing show, American Idol. This will be DioGuardi's second season on the show.
DioGuardi started her career as a singer-songwriter, and has now moved into producing and writing songs for other artists such as Britney Spears, Ashley Tisdale, Theory of a Deadman, Kelly Clarkson, Carrie Underwood and Demi Lovato. She has had 56 songs on albums that appeared Billboard's Top 10.
Things look less likely for longtime judge Paula Abdul, whose contract negotiations have gone increasingly sour. Abdul has made a huge media fuss about her contract negotiations, which has recently expired. Abdul's manger, David Sonenberg, has told the media that Abdul will most likely not be back due to their treatment of her during negotiations.
This leaves the show with the option of going back to the three judge panel which had been the standard up until last season. Let's hope that Abdul leaving the panel will bring a little bit more sanity to the line up.