Judge Approves Sale of Michael Jackson Concert Footage
Sony has acquired the rights to footage of Michael Jackson's final concert footage. The footage will be edited in a film to be released in theaters on October 30, 2009.
From THR.com:
---
S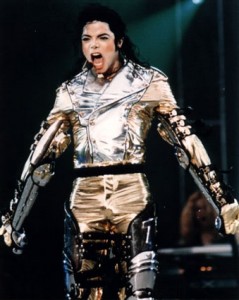 ony has secured the rights to release "This Is It," a film using footage of Michael Jackson's rehearsals for his "This Is It" tour.
Sony is paying concert promoter AEG Live and Jackson's estate $60 million for the footage, which will be presented in HD, with some sequences in 3D, when it hits theaters Oct. 30. The film is being directed by Kenny Ortega, who was directing the concert and who also helmed the "High School Musical" movies.
Los Angeles Superior Court Judge Mitchell Beckloff approved the deal Friday and announced his ruling Monday during a hearing where a separate merchandising deal, on which he is yet to rule, was being considered.
The studio said the film will be drawn from hundreds of hours of rehearsal and behind-the-scenes footage — most of which was shot in June at Staples Center in Los Angeles and the Forum in Inglewood — as well as interviews with friends and collaborators of the late performer, who died on June 25.
The judge had until Monday to approve the film and allowed Jackson's mother, Katherine, to review the contracts and raise any objections, which she declined to do. Under the terms of the contract, the film will be screened for Jackson's estate and cannot include any footage that puts the superstar in a bad light.
Sony Pictures and Sony Music will co-produce with AEG Live and the estate, and Sony Pictures will distribute the film worldwide. AEG Live's Randy Phillips and Paul Gongaware will serve as producers of the film.
The deal was announced by Michael Lynton, chairman and CEO of Sony Pictures Entertainment, Amy Pascal, co-chairman of the studio, Rolf Schmidt-Holtz, CEO of Sony Music Entertainment, and Rob Stringer, chairman of Columbia/Epic Label Group, a subsidiary of Sony Music Entertainment.
Attorney John Branca and music exec John McClain, both special administers for the estate, joined the announcement.
"Our goal is to work with partners who treat Michael's legacy with dignity and respect, while allowing us to substantially build the value of his estate for the benefit of Mrs. Katherine Jackson, Michael's three children and the charitable causes that meant so much to him during his life," Branca said.
"People who have seen this footage are astounded by the amazing quality of Michael Jackson's performance," Lynton added. "This historic recording of the last time he sang and danced on stage shows the legendary artist in an incredibly powerful way, with crystal clear images and sound. We understand the importance of producing a film that pays tribute to Michael as an artist, and are honored to work with the estate of Michael Jackson to give audiences the gift of his final performances."
Peter Schlessel, president of worldwide affairs, negotiated for the footage on behalf of Sony Pictures, with Branca repping the estate.
---
Hmm, seems a bit of a cash grab, but I have no doubt droves of people will go to the theater to see the King of Pop in a final performance. Hopefully they will do it in a tasteful enough way that it won't seem like a total cash in. My hopes are not altogether high in this aspect though. Only time will tell.
So, readers, what are your plans about this? Will you pay to see it? Is it too soon to be making this type of plan after his death? Let us know in the comments below.