Olympic Speedskater JR Celski's Tattoo Shows His Filipino Pride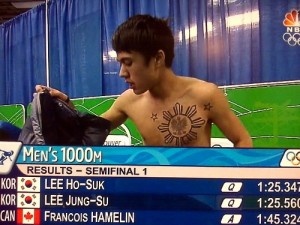 During the Men's 1000M  Semifinal results, speedskater J.R. Celski took off his shirt – revealing a large tattoo that takes up most of his chest.  Just out of curiousity, many have been wondering what the tattoo means.  Well, look no further. JR is from the Philippines, and the tattoo is from the Filipino flag.
From nbcolympics.com —
About JR Celski
Competing in his first Olympics… Medal contender in 1000m, 1500m and relay… Seriously injured at U.S. Trials in September 2009 when he sliced his left leg with his skate blade… Aggressive style is risky but has paid off… Second overall at the 2009 World Championships… From the same hometown as Apolo Ohno and is considered the next great hope for the U.S. in short track… Considers his mother's support to be "touching… and inspiring to me."
Budding star
First-time Olympian J.R. Celski represents the next great hope for U.S. short track. After a breakthrough performance at the 2009 World Championships, where he won four medals and finished second overall, Celski is one of the top contenders in Vancouver. Celski joins superstar Apolo Ohno in facing a formidable South Korean men's team that took six medals in Torino – including three of a possible four golds. Celski is one of the most aggressive skaters on the ice, a style that can result in wins or disqualifications, as it did at the 2009 Worlds. He took gold in the non-Olympic 3000m, and was DQ'd in the 500m quarterfinals for a reckless pass.
Injury setback
Despite a serious injury that ended his Olympic trials, Celski earned a spot on the 2010 Olympic team in the 1000m and 1500m. On the final night of competition, he hit the boards coming out of a turn in the 500m quarterfinals and sliced his left leg with the tip of his other blade. The cut, about six inches long and two inches deep, was just above his knee. Celski was ushered directly to the local hospital where he underwent surgery. He then went to Salt Lake City for a consultation with five-time Olympic gold medalist and orthopedic surgeon Dr. Eric Heiden. Though he is still unsure when he will return to the ice, Celski is confident he will be in shape for Vancouver.
Ties to Ohno
A native of Federal Way, Wash., Celski had early ties to Ohno, who hails from the same Seattle suburb. Celski's older brother, Chris, grew up skating with Ohno. Though J.R. was just 3 years old when he started inline skating, he got to know Ohno as he rose through the ranks. Celski, decided take up short track after watching Ohno win gold at the 2002 Games in Salt Lake City. Though comparisons to Ohno are inevitable, Celski says, "At first I liked it, but I'm my own person, just like everybody else."
Rise at the top
Celski likely could have qualified for the 2006 Games in Torino, but at 15 he missed the age requirement by 17 days. In the four years since, he has gone from a promising young talent to an elite-class skater. With his second-place finish at the 2009 Worlds, he proved to the world and himself that he could compete at the top level. "It was a breakthrough season for me mostly mentally because I had a block there," Celski said. "For a while I wasn't able to perform under the circumstances. And I was young and I was small, but now, I am one of the best."
Moving around
At age 14, when Celski had been skating short track for about a year, his family decided he should move in order to get the best coaching. His parents, Sue and Bob, weren't able to leave their jobs in Washington, so his brother Chris moved with him to Long Beach, Calif., where J.R. worked with world-renowned Dutch coach Wilma Boomstra. Chris, who had just graduated from San Jose State, found an apartment for them to share and got a job in the area. J.R. spent his first two years of high school in Long Beach before moving back home for his junior year. But it didn't last. "I decided something wasn't right, so I moved back to California to keep skating," Celski said.
Back to Long Beach
For his second move to Long Beach, Celski's dad came along, while his mom remained in Washington, where she works as a manager at the grocery store Safeway. Celski says he was inspired by his family's willingness to sacrifice for his career. "There is not one word that can describe what my family has been to me," he said. "Dedication and sacrifice don't even cover it because they have done what most parents would think would be crazy." His father was a vice president of Jiffy Lube Corp. in Washington, and now has his own business. Celski's other brother, David, is a first lieutenant in the Army.
Future Bear
Celski graduated from Lakewood High School in California in 2008 with a 3.71 GPA. He has deferred enrollment at Cal-Berkeley until after the Vancouver Games, likely in the fall of 2010, and wants to study business or architecture. His decision to put off school came on the advice of an English teacher, who said, "School is a place, the Olympics float in time." When Celski is not training, he plays the guitar and listens to music, and lists the Roots, Mos Def and Arcade Fire as a few of his favorite artists.