Joss Whedon's Dollhouse is cancelled by FOX
Well, FOX strikes again. When Joss Whedon was announced to be working with FOX on a new show, people were worried. FOX who royally messed up his amazing space western Firefly would be in charge of his next show? Things weren't looking too good, and after FOX retooled a few of the first episodes things looked worse. Well fanboys, it seems that your fears have come to reality. FOX has canceled the ratings challenged Dollhouse.
I can't really blame them, the ratings were steadily dropping from its already dismal premiere last year. I'm a big Joss Whedon fan. I have watched all episodes of Buffy, Angel and Firefly. I have read Joss's run on X-Men. I watched his amazing webisode series Dr. Horrible and Sing-a-Long Blog. I could not, no matter how hard I tried get into Dollhouse. I don't think it contained enough of the wit that his other projects had. The whole series was stilted and inaccessible. So, throw your hatred towards me, but I'm glad he'll be moving on to a new project. Let's hope his next one will reach the heights of Firefly.
From Variety:
---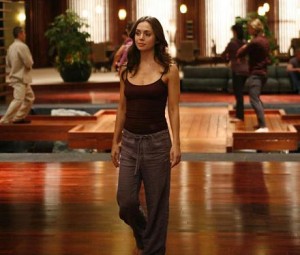 Geeks of the world, rise up: Fox has cancelled the Joss Whedon drama "Dollhouse." Meanwhile, ABC has yanked "Hank."
Fox's decision on "Dollhouse" isn't a surprise, as the net had already yanked the show from its Friday slot during November sweeps. Show will return to the sked on Dec. 4 and run the nine remaining episodes in its order for the season. 20th Century Fox TV at present is in production on the Eliza Dushku starrer's 11th episode.
"This gives Joss the opportunity to end in a significant way," the network said in a statement.
"Dollhouse" narrowly avoided cancellation last spring after its first season; show has struggled this fall on Fridays, however — a night that Fox hasn't found much success over the past decade.
"Hank's" cancellation comes as no surprise either. The Warner Bros. TV sitcom starring Kelsey Grammer had already been pre-empted in recent weeks for specials — including this week, as the net's entire night was bumped for the CMA Awards.
ABC will air a mix of comedy repeats and holiday specials in "Hank's" 8 p.m. slot for the time being. ABC had already picked up full seasons of its other Wednesday laffers — "The Middle," "Modern Family" and "Cougar Town."
"Hank's" demise makes it two disappointments in a row for star Kelsey Grammer, who previously starred opposite Patricia Heaton (now toplining "The Middle") in Fox laffer "Back to You," which had the misfortune of bowing during the strike interrupted 2007-08 season.
Five episodes of "Hank" remain in the can; it's unclear whether those shows will see the light of day. Insiders noted that the writing was on the wall for the show when ABC opted to air the show's Thanksgiving episode early, last week.
---
From Joss Whedon's Blog:
---
Hmm. Apparently my news is not news.
I don't have a lot to say. I'm extremely proud of the people I've worked with: my star, my staff, my cast, my crew. I feel the show is getting better pretty much every week, and I think you'll agree in the coming months. I'm grateful that we got to put it on, and then come back and put it on again.
I'm off to pursue internet ventures/binge drinking. Possibly that relaxation thing I've read so much about. By the time the last episode airs, you'll know what my next project is. But for now there's a lot of work still to be done, and disappointment to bear.
Thank you all for your support, your patience, your excellent adverts. See you again. -j.
---
Yea, in there was some news about Hank, but I called that since day one. I'm not sure there will be an uprising of Hank fans out there, clamoring for a clean finish of the lowly rated sitcom.