Join ReviewSTL at the Great Escape Gravois Bluff's "Harry Potter and the Deathly Hallows" Midnight Release!
Are you excited for Harry Potter and the Deathly Hallows Part 1?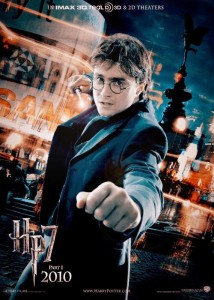 Well, we here at ReviewSTL sure are! That is why we've decided to celebrate the release at St. Louis' best theater, the Great Escape Gravois Bluffs.
Why are we celebrating the release of Harry Potter and the Deathly Hallows Part 1?
The release of Deathly Hallows marks the beginning of the end for the pop culture phenomenon that is Harry Potter. The Potter books have been translated into 67 languages, and have sold over 400 million copies! The film series is the highest grossing series of all time, and with the release of the last two films looks to cement that record. How often does a pop culture phenomenon like this happen? Not often, so let's enjoy one of the last big moments left in the series. We are all fans of the series here, and we'd love to see you there!
Why are you celebrating the release at Great Escape Gravois Bluffs in Fenton?
It is the favorite theater of the staff here at ReviewSTL. Why you ask? We are big fans of the leather high back rocking seats (the most comfortable seats at any theaters), the digital sound (last time we were there the bass was incredible) , and of course we would be remiss to mention that Gravois Bluffs was the first theater to employ all digital screens.
Will ReviewSTL be giving away cool prizes?
We will be releasing more details as they become available, but right now we have plans to give away prizes for best Harry Potter themed costumes! We hope to announce plans for more contests to keep you busy before the screenings later! Keeping checking ReviewSTL.com for more information!
We hope to see you at the midnight release of Harry Potter and the Deathly Hallows!
[hdplay id=150 width=595 height=375]