Johnny Depp Talks About His Role As Tonto In "The Lone Ranger"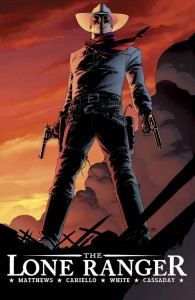 It is safe to say that anything Johnny Depp is attached to these days is interest worthy.  The man is a phenomenal actor and has really made some fantastic films.  The Lone Ranger is one of his films that has been talked about for awhile.  But it is moving forward extremely slowly.  It seems Disney is more interested in getting more adventures featuring Jack Sparrow. 
But the project is still there and coming.  Here is what Depp had to say recently.
I think it's going to be good, when we have a chance to put it up on its feet. What we've got so far screenplay-wise is really great, really funny. I always felt Native Americans were badly portrayed in Hollywood films over the decades. It's a real opportunity for me to give a salute to them. Tonto was a sidekick in all the Lone Ranger series.  is a very different approach to that partnership. And a funny one I think.
The only big question mark left is who will play the title role.  Will Disney go for someone with as big of a name as Depp or cast small and make Depp the star?  Depp has a busy schedule.  It will be interesting to see where this is on his priority list.
Who would you cast as the Lone Ranger?  What Depp project are you most looking forward to?