John Woo's Red Cliff Trailer Looks Intriguing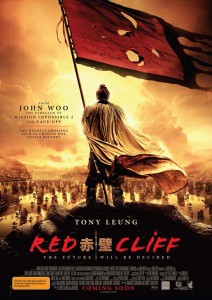 One look at John Woo's IMDB page shows you he hasn't been that busy lately. He held develop a videogame, Stranglehold, based on his film making style, which is now being developed as a John Woo film. Although he has made two historical Chinese epics, Red Cliff and Red Cliff: Part II. The first of which is finally coming to the States. It looks very much like something like the style of cinema we have been seeing come out of China since Crouching Tiger, Hidden Dragon came out 10 years ago. It will be great to see Woo take on something like this, he is a master at making wire work look amazing. I can only hope that he brings more to this style of film making, than has been brought in the past few years. With an all-star cast, he might have a breakout hit on his hands.
Synopsis:
Legendary action cinema master John Woo and international superstar Tony Leung reunite for the first time since the 1992 classic Hard Boiled with this epic historical drama based on a legendary 208 A.D. battle that heralded the end of the Han Dynasty.
Red Cliff opens with power hungry Prime Minister-turned-General Cao Cao (Zhang Fengyi) seeking permission from the Han dynasty Emperor to organize a southward-bound mission designed to crush two troublesome warlords that stand in his way, Liu Bei (You Yong) and Sun Quan (Chang Chen). As the expedition gets under way, Cao Cao's troops rain destruction on Liu Bei's army, forcing the latter to retreat. Liu Bei's military strategist Zhuge Liang (Takeshi Kaneshiro) knows that their only hope for survival is to form an alliance with rival warlord Sun Quan, and reaches out to Sun Quan's trusted adviser, war hero Zhou Yu (Tony Leung). Vastly outnumbered by Cao Cao's fast approaching, brutal army, the rebel warlords band together to mount a heroic campaign unrivaled in history that changes the face of China forever.
A massive hit in Asia and the most expensive Asian film production of all time, Red Cliff is a breathtaking war epic that marks the triumphant return of John Woo.