Joel Courtney, Star of 'Super 8', Set To Play Tom Sawyer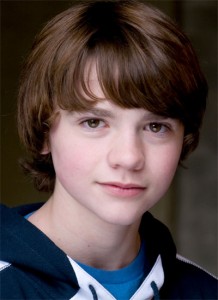 I was not crazy about SUPER 8.  I thought it was good, but my anticipation was not exactly rewarded with the end result.  But I will say that I was very impressed with the star of the film, Joel Courtney.  There is no doubt in my mind that if the kid plays his cards right he could turn into quite a star.  My advice: get Dakota Fanning or Abigail Breslin's manager.  They aren't doing too bad for themselves.
The young star may have his next starring roles already lined up.  The first of which is TOM SAWYER AND HUCKLEBERRY FINN in which Courtney would play Tom Sawyer.  The film is being directed by Jo Kastner.  The last film I remember seeing about the literary hero is TOM AND HUCK starring Jonathan Taylor Thomas and Brad Renfro.  Let's hope this film is better than that '95 family film.
The other film Joel has on his plate is a horror film titled THE HEALER, a film about a father and son encountering something scary while camping.  I am much more interested in a supernatural thriller than a story about Tom Sawyer, but I also enjoy the horror genre much more (though I am disappointed with most entries into the genre).  Which film are you more excited to see develop?