"Up In The Air" Director Jason Reitman In Town for St. Louis Premiere at SLIFF 09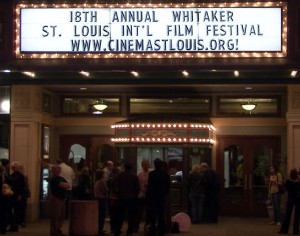 On Saturday I had the privilege of interviewing Jason Reitman ("Thank You For Smoking," "Juno"), who was in town for the St. Louis premiere of his latest film – "Up In The Air." Reitman was in attendance for the film, which was viewed by a sold out theater of 450 at the Tivoli on the third day of the 18th Annual St. Louis International Film Festival.
UP IN THE AIR is Reitman's third feature film. The movie tells the story of Ryan Bingham, a corporate downsizing expert who is in jeopardy of losing his way of life – one where home is traveling "up in the air." Reitman says that this film is one of his most personal that he has ever made – and may be the most personal he ever will make.
Before the movie, St. Louis' Kevin Renick played his song titled "Up In The Air," which appears in the film's closing credits. Renick says that he handed Reitman a cassette tape of his song when he made an appearance at Webster University, during the filming of UITA. Reitman says he knew half way through listening to the song that he wanted to use it in the final product.
Watch the video of Kevin Renick playing "Up In The Air" before the St. Louis premiere:

Before the film started, Jason Reitman talked about the film and St. Louis. Watch the videos below:



---
Up in the Air
Jason Reitman, U.S., 2009, 108 min.
Saturday, Nov. 14, 7 p.m., Tivoli 1
The Oscar®-nominated director of "Juno" and "Thank You for Smoking" continues his ascent with the dramatic comedy "Up in the Air," starring Oscar® winner George Clooney as a corporate downsizing expert whose cherished life on the road is threatened just as he is on the cusp of reaching 10 million frequent-flyer miles and has met the seeming woman of his dreams (Vera Farmiga). The uniformly excellent cast includes Jason Bateman, Anna Kendrick, Danny McBride, Melanie Lynskey and J.K. Simmons. Shot largely in St. Louis, "Up in the Air" was the buzz film of the Telluride and Toronto film fests, with critics loudly trumpeting its Academy Award® potential. IndieWire calls the film "a witty, charming and moving exploration of a world we all recognize," and Variety asserts that "Clooney has scarcely ever been more magnetic onscreen."
With writer-director Reitman and executive producer Michael Beugg, recipient of SLIFF's Charles Guggenheim Cinema St. Louis Award.
Followed by Q&A between St. Louis Post-Dispatch critic Joe Williams and Reitman, recipient of SLIFF's Contemporary Cinema Award.
Sponsored by American Airlines
---