Jackie Chan Says Will Smith's Son Has Excellent Karate Skills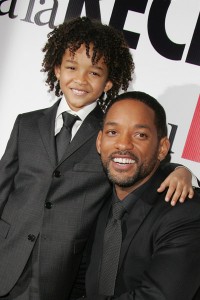 The remake of "The Karate Kid" started filming on July 11 in Beijing. The film, titled "Kung Fu Kid," stars 11-year-old Jaden Smith, son of mega stars Will and Jeda Smith. Jaden has been training in the art of Kung Fu by Jackie Chan's stunt co-ordinator, and according to Chan's blog – he is more than impressed!
Jackie Chan said "He put my son to shame! I provided my son with the best martial artists in the world, and he could not be persuaded to try it. In just two months, Jaden had learned so much. He is truly a talented boy." Wow – how would you like to be the son of one of the most famous martial artists of all time, and have your dad say something like that? I bet Jaden feels pretty good right about now!
You might remember Jaden from his role as Will Smith's son in "The Pursuit of Happyness" – no wonder he was so believable in the role. This will be Jaden's first starring role in an action movie, and will most likely not be his last if the "Karate Kid" reboot takes off. And with a last name in Hollywood like "Smith," there is a good chance that Jaden's future will be a bright one.
Check out Jackie Chan's blog entry here.