Is Anybody There?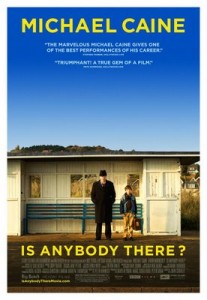 The latest film from John Crowley is an intriguing look into friendship, death, and growing old filled with tender, sad, and humorous moments throughout; and anchored by a fantastic turn by Michael Caine.
Edward is not very happy with his lot in life right now, his home has been recently up rooted since his mother and father began taking on elderly renters in there home as a resting home of sorts. Edward is also unhappy because he can't get a grip on the afterlife. With all of these elderly folk rolling through his house and ultimately passing away, Edward has begun to become interested in what happens when these people die and begins to try and record their ghosts leaving their bodies. As Edward begins to look to improve his ghost tracking skills, a new tenant moves into the most recently departed's room, which also happens to be Edward's old room and he wants it back. The new tenant, Clarence, is an ex-magician whose wife has recently passed and he reluctantly is moving into this assisted living situation. The two are at odds at first for a number of reasons, but after a bit of an adjustment period Edward and Clarence begin to form an unlikely friendship learning magic and investigating ways to communicate with the afterlife. The two work towards adjusting to their situation as life in the house they live in effects the way their lives move forward.
Crowley's film is full of a number of themes and he some how touches on them all the just about the perfect amount, while keeping the film moving forward, and entertaining as well. The musings on death, the afterlife, love, and life in general are all on display here and they all give us some interesting interpretations on these long thought on topics. Crowley is also great at bouncing our emotions around with ease from hilarity to heartbreak and even a bit of suspense. Crowley also does some great work with the actors, including the young lead Bill Milner, who makes some nice leaps from his previous work in Son of Rambow.
The film works well from pretty much start to finish emotionally, but a couple things might get to a couple people. The element of elapsed time in the picture is hard to interpret and we don't really know how much time these two are spending together, this is most important when dealing with the condition of characters as they degrade. The film near the end gets a bit disjointed and I am curious as to if this was an intentional move do to the condition of one of the characters, or just a lapse in editing. Either way, the film is not really diminished by this slight oddity.
The actors in the film are pretty solid, if not great, across the board. Bill Milner makes some drastic steps forward as an actor, going from cute and acceptable in Son of Rambow, to doing a pretty fine job and standing up with Michael Caine in a number of scenes. And speaking of Michael Caine, he is fantastic here, turning in hilarious, sad, and yet heartwarming role. Caine and Milner do great work together and Caine's spiraling emotions as he tries and deals with his loss and situation is so great that his name will be getting dropped hopefully come awards season. The rest of the supporting cast is also solid with David Morrissey playing a pathetic and torn father of Edward and Anne-Marie Duff serving as an excellent mother figure for him and the household.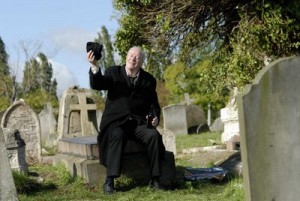 In the end, Is Anybody There?, serves as a great little character study of a varying range of ages and personalities. There is plenty of humor, sadness, and heartfelt drama to keep one enjoying the picture and I think the picture will surprise a number of people with how well it works. Caine is fantastic and will draw most people into the picture, but there is more to the film then his performance, as Crowley creates a great little story out of a few simple characters looking for answers in their world.
8.5/10