First Official Photo of Michael Meyers in Halloween 2
Behold – the first official photo of Michael Meyers from Halloween 2, or H2.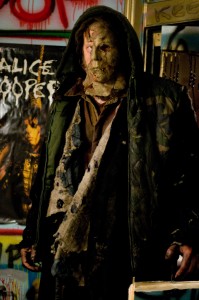 Dimension's "Halloween" scored the highest Labor Day weekend opening ever with a record-breaking $30.6 million in its first four days of release and went on to gross nearly $60 million at the domestic box office in 2007.
Zombie's "H2" will pick up at the exact moment the first movie stopped and follow the aftermath of Michael Myers murderous rampage through the eyes of heroine Laurie Strode.
"H2" will be Zombie's fifth written and directed feature. Prior to the success of Halloween, Zombie released the critically-acclaimed film "The Devil's Rejects" (2005), the follow-up to his cult classic "House of 1000 Corpses" (2004). Zombie just wrapped production on his animated feature film "The Haunted World of El Superbeasto" due to be released in 2009. Zombie, also an accomplished recording artist, has sold over fifteen million albums worldwide, making him one of Geffen Records' top selling and longest running artists.
Bob Weinstein stated: "Following the success of 2007's 'Halloween,' we are thrilled to be back in business with Rob Zombie, bringing a sequel to theatres. The fans have made it clear – and we agree – that they feel the franchise is in great hands with Rob Zombie."
Rob Zombie said, "I am very excited to be working with Bob Weinstein again and returning to the world of 'Halloween.' The remake laid the groundwork, now it's time to really take Michael Myers to the next level. I believe we've just barely scratched the surface of where we can take this series."
John Carpenter's "Halloween" launched the Halloween franchise in 1978 and Moustapha Akkad, founder of Trancas International Films, executive produced the original classic. Akkad's son Malek has continued with the franchise, producing "Halloween" (2007), "Halloween H20: 20 Years Later" (1998) and now, "H2."
"I am thrilled to be making 'H2' at Dimension, the home of the 'Halloween' franchise for the last 15 years," commented Malek Akkad. "I look forward to working again with Bob Weinstein, as well as a filmmaker of Rob Zombie's talent and stature."