Interview: WWE Superstar Drew McIntyre Talks Favorite Superstar, Returning to WWE, and Being a Future Universal Champion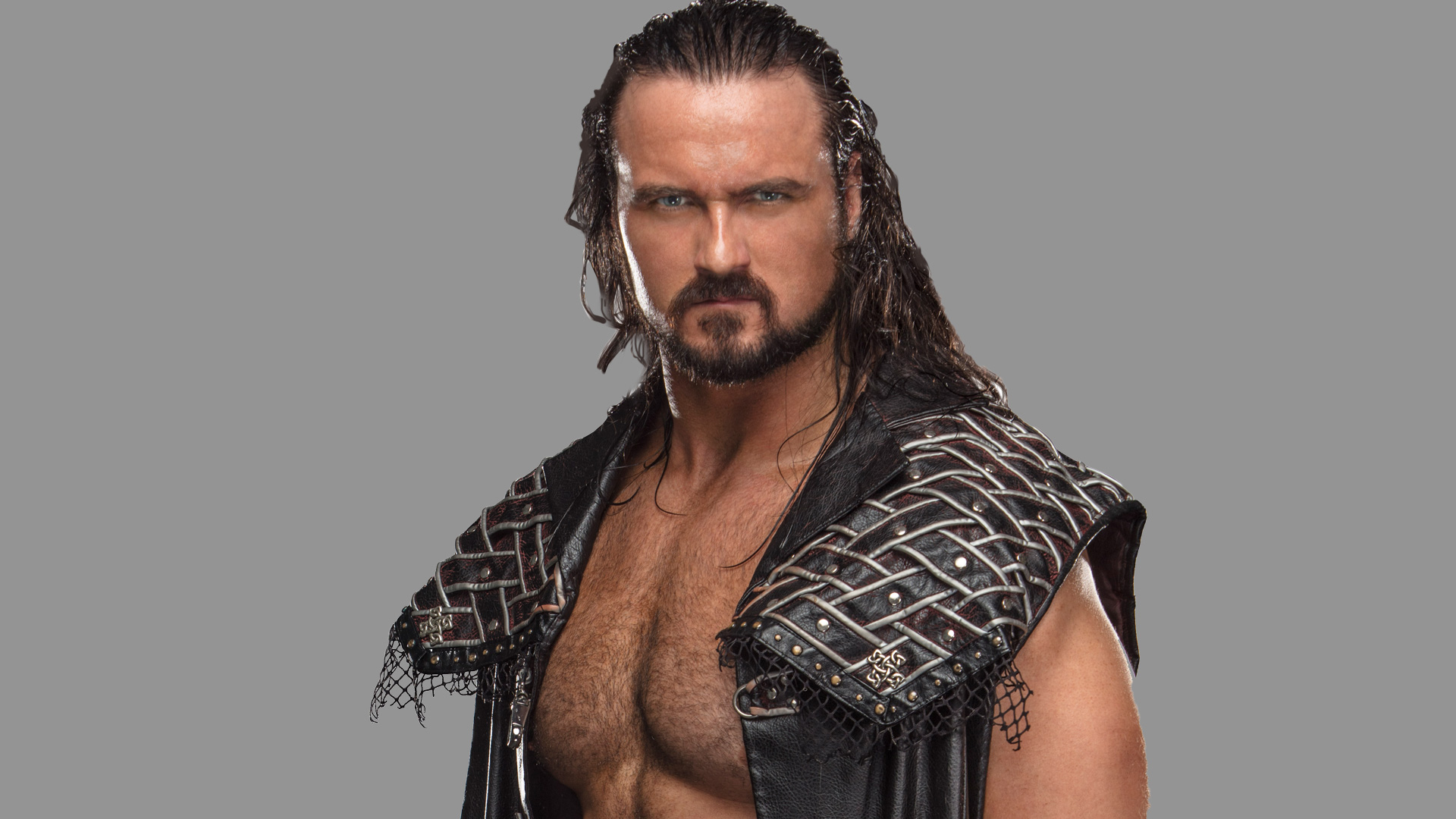 10 years ago in 2009, I was fortunate enough to cross paths with WWE Superstar Drew McIntyre, after he performed at a WWE pay-per-view in St. Louis. He was having a bite to eat at Maggie O'Brien's and my wife and I were there having a drink after the show. Now, my wife is not a wrestling fan, but she was enamored with McIntyre's Scottish accent, so she approached him to chat. He couldn't have been a nicer guy. Fast forward to Wrestlemania 33 in Orlando, Florida. I was taking in the Sirius Radio show Busted Open and once again had a chance to meet McIntyre, who, unbeknownst to those in attendance, would be making his WWE return at the NXT Takeover show that evening. Once again, he couldn't have been nicer, posing for photos with fans and even clobbering then host, Larry Dallas in the back of the head with his title belt. It was all in good fun. Well, our path's crossed once again, as I had the opportunity to talk with McIntyre about his wrestling career, his first stint with WWE, his ultimate return to the company, and his quest to become the first British-born champion in the company.
1. How did you first get involved in wrestling?
It is what I always wanted to do. It's all fine and dandy if you live in America and have options to go to a wrestling school, but I was living in Scotland and there was nothing. The UK scene had basically, completely dried up. About 18 years ago, I started and found one wrestling school in England, 12 hours from where I stayed. It took about three years of convincing my mom. She finally let me go travel the 12 hours to learn how to wrestle at 15 years old. That's when my journey began. That's all I ever wanted to do. I became the first Scot signed to WWE at 21 years old. 
2. Being a fan of wrestling as you were growing up, who were some of the wrestlers you looked up to?
I was a big Brett Hart fan growing up. He was my favorite as a kid. I guess I never understood why until I grew up. You know, everyone was a fan of Hulk Hogan and Ultimate Warrior, those kinds of over the top, larger than life characters. I guess as I got older, I realized it was because of the stories he was telling in the wring. The way he told stories was more compelling to me than the flashier, over-the-top, larger than life characters at the time. 
3. A lot of has been made of your first stint with WWE. What do you think happened that caused it to not go as you had hoped?
Looking back, I wasn't ready for the opportunities that were presented to me. I wouldn't change anything with the way it happened, where I am now and the man I am. At that time, the company realized that a lot of the old superstars were retiring and they had to start building new superstars and myself and Sheamus were given a push.  Things didn't necessarily work out. Looking back on it now, I wasn't ready and perhaps wasn't given it my all. During that first run, I was a little immature and didn't understand the opportunity I had so I had to go away, get some perspective and return a man. 
4. Thinking about your time on the Indy scene, how did it shape your character as we see it now?
That's where I was able to become a top-level superstar and a main-event superstar and I really think I had to step away from WWE to really apply all the lessons I had learned in WWE and show the world what I could truly do. Evolve, ICW in Scotland and multiple companies around the world gave me the opportunity to be the main event superstar, to carry their title around the world and build their brand. I was able to help grow the crowds in Evolve and in Scotland. In Scotland, we started with 1,500 people at our largest show and saw it grow to 2,000 when I came back, then to 4,000 people and onto 7,000 people each consecutive year. I really saw the difference I was able to make and pass on the knowledge I had learned in the WWE and become a leader. I don't think I could have necessarily done that within the WWE system. It's very hard to become a top-flight player. For me, I had to go away and then come back again. For someone like Roman Reigns to stick around the system and become a top superstar, it's really incredible. For myself, I had to step away and put the pieces together and become the superstar I am today. 
5. Being in the business as long as you have and being as well-traveled as you are, do you get a lot of the younger guys coming to you for advice?
Yeah, I'm always there. I don't necessarily run around trying to tell everyone what I think. Everyone kind of knows my story and knows I've been around. I grew up in WWE. I went away and saw the independent scene so I have a perspective on both worlds and kind of know everybody within the company. All the stars from NXT are coming from the independent scene, so I've been around them all my entire life, so I do give people advice when they are concerned and trying to figure out the system in WWE. 
6. Being on the independent scene for a few years and seeing how it's thriving now, do you think this is the healthiest state wrestling has ever been in?
From a worldwide perspective, it's the healthiest it's ever been. As I said, the UK scene didn't exist when I started. There were basically two companies. After I came back it was thriving. The American indy scene just kept getting bigger and bigger. There are multiple places for people to go and hone their craft and learn different styles. By the time they get to WWE, they are more of a complete performer. If you're lucky enough to get an opportunity with WWE, you're more ready than I was because of those opportunities. Myself and Sheamus wrestled each other all over Europe trying to figure out how we could get better, but we couldn't because there was nobody better than us. 
7. How cool was it for you to get to go out in front of 83,000 people for your first singles match at a Wrestlemania?
It was pretty crazy. I already told the boss himself and Hunter that walking into Wrestlemania with the entrance and the pipes was worth all the past few years of hard work, not being home, not seeing my wife and pushing my body to the absolute limit. When I was gone from WWE, I was the busiest wrestler in the world, jumping from country to country to make shows. But walking out at Wrestlemania and seeing that many people was worth it. To wrestle Roman Reigns, in his first singles match back, was worth it. 
8. The Wrestlemania entrance with the bagpipes was probably one of the highlights of the night for me. Whose idea was that?
Well, I had a similar entrance at NXT Takeover when I won the NXT Championship from Bobby Roode. I didn't know they were going to be there. I just showed up and saw a pipe band. I thought I wonder if that's for Ronda? Then I heard she had Joan Jett, so I was wondering who the pipe band was for. Finally, someone let me know to go to rehearsal at the entrance. I tried not to think about it until I was walking out there. I felt kind of bad for Roman because I was pretty much in Braveheart mode that night.
9. Being on the road so much with the business being such a grind, how do you deal with that and keep yourself from getting burnt out?
This is all I ever knew. I've always been on the road. I think when I stay in one spot for too long like when I was injured, I start to get restless because I'm so used to being on the road. My wife is kind of used to the routine. It takes a special person to be able to endure the lives we have. She works in healthcare, so she's really busy herself. She understands being busy. Thanks to technology, we are able to be as close as possible without being in the same room.
10. A lot of fans, including myself are looking at you to be the next challenger for the Universal Title. What would winning the title mean to you?
That's the goal, it's always been the goal ever since I was a kid. I appreciate yourself and anyone else who believes I have a shot. Looking back, I'm glad when I was younger, I never got thrown into that opportunity that a couple of younger guys did, who were also not ready for it. The first time I get it, I want it to be special and I know it will be special. I want to be the first ever British champion. I can't believe there has never been a British champion in WWE, but I also want to be that leader. Drew McIntyre wants to eradicate complacency and to do that, he has to be champion. 
You can catch Drew McIntyre and several other WWE Superstars on Friday night at Enterprise Center for WWE Live. Tickets are still available through ticketmaster.com.