Interview with Crispin Glover – Knave of Hearts in "Alice in Wonderland"
ReviewSTL was lucky enough to score an interview with one of the stars of this year's hottest release so far, Alice in Wonderland.  Crispin Glover is probably most widely known for his role of George McFly in the film Back to the Future.  He continues to have a busy career making his own film, as well as appearing in feature films such as 9, Hot Tub Time Machine, and Alice in Wonderland.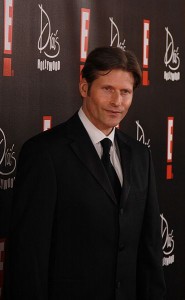 First off, congrats are in order. Alice in Wonderland has now crossed $1 Billion in the worldwide box office.
Yeah, that's amazing! I'm very glad to be part of that.
It is only one of six movies that have done that now right?
I believe so.
In Alice in Wonderland, you play the Knave of Hearts. He's over seven foot tall in the movie, how was that done in the film? Was there a lot of green screen work and prosthetics?
There were no prosthetics. When I think of prosthetics I think of pieces of latex that go on the face or part of the body. There was nothing like that. Although, there was a scar application. I did wear painter's stilts to make me the proper height.  The rest of it was done in green screen.
This is kind of your second time working with Tim Burton this year, with Alice in Wonderland and 9.
Not quite. I mean, yes, 9 was a Tim Burton production, but I did not have any interaction with him. In fact, I thought of it certainly, but we never really had a discussion about that film. It was a totally separate entity.  That was more of a business element that Tim and his production company were working on.  They were there to get the filmmaker, Shane Acker, get what he needed done.  So, I didn't really have anything to do with Tim Burton while making 9.
It is kind of a funny coincidence that it happened that way. I love working with Tim. I had met him in what I think was 1985 or 1986, right after Pee-wee's Big Adventure came out. We got friendly, and were social for a while. I hadn't talked to him in many years, and then I was touring with my own films. (Crispin was at Webster University showing his films just a couple years ago.) I was in Australia showing my films, and I got an email from my agent, telling me there was interest in me for a role in the upcoming Alice in Wonderland film. I had no idea what the part was, I thought maybe it would be a few days work.  So, I thought that sounded great, and something I would want to do. I didn't think it would interfere with my tour. I was supposed to continue on from Australia into Europe. Then the offer came in for Alice in Wonderland, and it was virtually for the run of the film. I didn't even know the character at the time, and they told me it was the Knave of Hearts, but they didn't have the script for me yet. So, I looked up in the original Alice in Wonderland book, and researched the Knave of Hearts.  It didn't feel like a character that would run throughout the entire film.  I thought, something must be different about the character.  Once I got the script though, I could see it was very different.  The whole screenplay was a different take on, a sequel, on Alice in Wonderland.  I was ecstatic to be getting such a great part.  I had a great time working on the film, with Tim and all of the actors.  Just a truly great experience.
What do you think about the use of 3D in Alice in Wonderland? Do you think 3D is the natural progression Hollywood is going to?
Well, it is definitely apparent that it is helping the income of the films.  It sure seems like everything is going towards that. I'm assuming that it will be part of technology's continuing advancement in film.  Producers want to get people into movie theaters, as home theaters continue to escalate in their quality.  There has to be new things done to get people into movie theaters.  It does seem logical that 3D is something that will help that as long as it appeals to people, and gets them into the movie theater.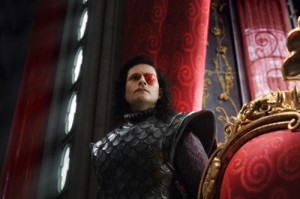 Are you on tour currently with your show?
Well, I go to New York on Monday.  I'm in Prague right now. I own property here in the Czech Republic. I own an old chateau that was built in the 1600s. It's a historical monument, and next to it are horse stables that I've made into a small soundstage. It is finally ready for me to start building sets in.  I like to shoot my films on set, and that is why I bought the property.  I've already made two films, part one and two, of what will be a trilogy. The next film I make will not be part of that trilogy, but it will be a movie with my father and me.  My father, who is an actor as well,  and I have never acted together before.  So, I get to make a movie next with me acting with him.
Sounds like a good time! So, you were also in Hot Tub Time Machine this year. It looked like a really fun role. What was it like always being in a situation you could lose an arm in?
Well, one doesn't want to have the actual threat of losing your arm while you were working.  I'm guessing you mean what was it like to play a character who is has the threat of losing his arm?
Ha, yes I did.
There was actually one moment in the elevator sequence where something went wrong during the rehearsal, and my finger got caught in the elevator.  They didn't actually realize that I was telling them to stop, and I lost the sensation in one of my fingers. Luckily, most of the feeling has come back now. (laughs) It still is just a bit numb.  So, yeah that is one thing I definitely don't want to have happen.  I don't want to have a physical accident on a set.   It seems really unpleasant. There are certain things I don't mind sacrificing for work, but my life and limbs are not one of them.
That would have been a heavy dose of irony had that happened on set.
Hah, for sure.
It was a really fun set to work on though.  Everybody was very nice. I enjoyed making that film. I really did.
Well, I don't want to take up too much of your time.  Thanks very much for taking the time to answer a few questions!
I appreciate it! Thanks!
You can keep up with everything Crispin is doing at CrispinGlover.com. There you will find updates on where you can see him on tour, and what movies he will be appearing in.
Alice in Wonderland is out tomorrow on DVD! Buy it now!
Alice in Wonderland (Three-Disc Blu-ray/DVD Combo + Digital Copy)