Interview: Meghan Picerno is Christine Daaé in 'Love Never Dies' at the Fox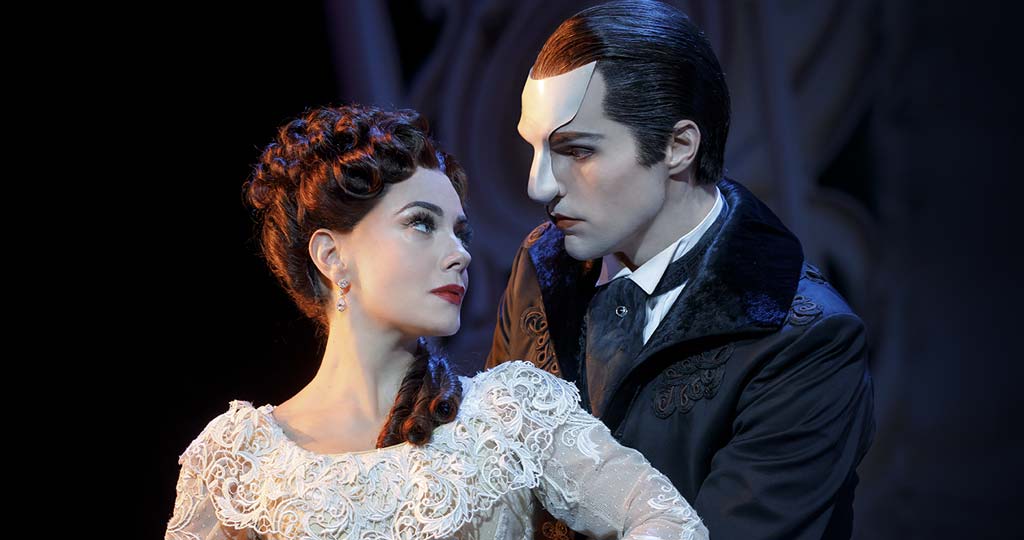 Andrew Lloyd Webber's sequel to The Phantom of the Opera – Love Never Dies – is coming to The Fabulous Fox Theatre in St. Louis September 18 – 30! 
The show, which kicks off the 2018-2019 U.S. Bank Broadway Series, takes place ten years after the events of Phantom, and follows Christine Daaé and her family in New York. Meghan Picerno plays Christine on the first US Tour of Love Never Dies, and spoke to us about stepping into the world of musical theatre with a background in opera.
"This is ten years later, and you find your favorite characters older and more mature," said Meghan. "Christine Daaé has now blossomed into the international opera diva, who of course in the first show, the Phantom was always hoping for. She is married to Raoul, and they have a son – Gustave. Unfortunately, their marriage is a bit strained, and they've been invited to open Oscar Hammerstein's new opera house in New York. So they have to go, and they cross over to America. That's suddenly where the rollercoaster turn of events occurs. They meet the Phantom again… and we find Madame Giry and Meg have also gone to Coney Island. And the adventure begins!"
It was because of working with Broadway legend Hal Prince himself that she found out about the audition for this show.
"I was Cunegonde in Hal Prince's Candide, with New York City Opera. And that's where I met Hal, and Pat Birch, and so many wonderful people who are now mentors of mine – and they're part of my team… They said, 'Would you ever do music theater, would you do Broadway?' And I was like, 'Well sure!'"
Casting called her to audition for Christine, she sang for Andrew, and the rest is history. As far as a favorite part of being involved with Love Never Dies, Meghan says,
"One thing that I never even thought was, being on this tour has allowed me to experience audiences all across America. It's so magical to meet people from all over, and it's really because of Hal, and Andrew, and because of this show. And no matter what market we're in – whether we're in LA, or Chicago, Atlanta, Providence – the audiences are so wonderful and leap to their feet every night. The stage door is always mobbed. I realized that, although we're from such different cultures in the United States – we're all human, and all of these people are going to the theatre. Theatre is alive and well, which also has made me very excited. We're in these gigantic theatres – I mean, The Fox in St. Louis is beautiful! I can't wait to be in St. Louis. [Audiences] are so eager, and hungry, for art. And I think especially during the times we live in that this is what's happening."
She had the chance to meet with Webber to discuss the role, and work with him to develop Christine for the tour.
"Working with him was so wonderful. Before we opened in Detroit, he was there… and he's just such a great guy, on top of it all. And I think that's just really wonderful. You can feel it, we're really a family."
One of her questions was about the characterization of Christine, and how to continue with the foundation laid in the previous show. Meghan said Webber told her,
"'You're the first one to do this here, so you can really make it yours.' And I think having that blessing – of course within the context of the show, the blocking, the direction, the music – but to have permission to be able to make it mine, was really incredible."
In regards to why Andrew Lloyd Weber chose Coney Island, Meghan was able to ask him herself to find the answer.
"Turn of the century Coney Island was quite a place. It's not the Coney Island that we have currently. And it's where anything went. Someone with a mask would blend in, and it's really Phantom's world – as opposed to Paris, where he would have stuck out. One thing I was very struck by was the costuming, by our genius designer Gabriela (Tylesova). When we arrive at Coney Island, it's really us that look like we don't belong there. Everybody else is costumed, with these very beautiful, dark, kind of warped costuming that also reflects the world that they live in. And ours are these very elegant, grand, beautiful costumes."
The costumes of Phantom are amazing and one of my personal favorite parts of the show. It sounds like the costumes created for the sequel are going to be just as mesmerizing.
"They're stunning. I remember my costume fitting, they did it chronologically through the show. I put my first dress on, and it was so beautiful. And then the next one came, and then the next one came! And, ultimately, the peacock dress. And I just remember that I was blown away!"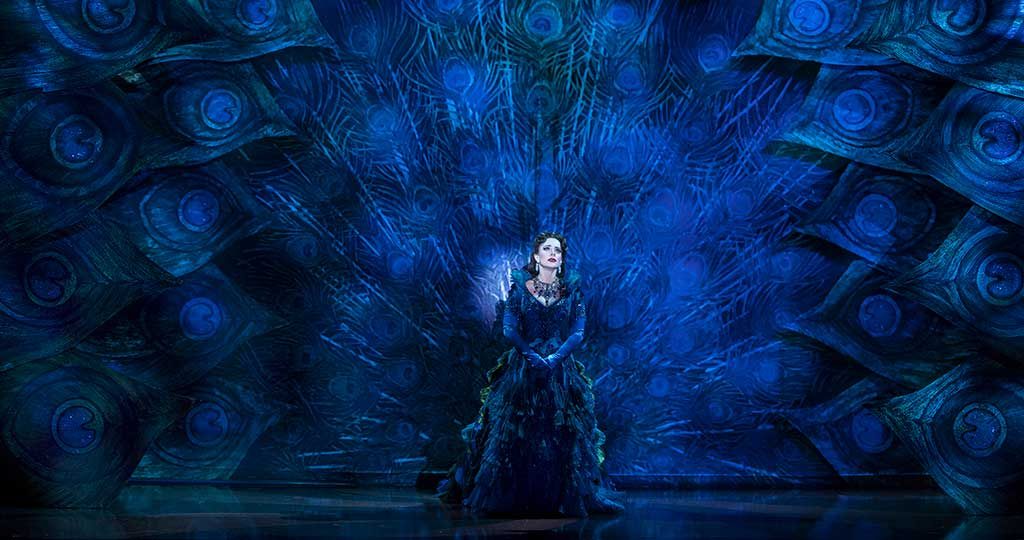 Meghan comes from an operatic background, where she had her training. This is her first foray into the world of musicals.
"I am originally from the opera world, and am still in the world. But now I am living in both worlds – of opera and music theater. And I love it! What's really amazing about coming from a classical background, and working in music theater, and then going back to classical, is each world helps the other. I use new colors and tools that I've developed in one area, and cross-pollinate into the other. And so it's really quite magical."
Phantom and Love Never Dies allow these two worlds to come together. And that is why it's important to cast actors with the appropriate backgrounds.
"I would say especially in Love Never Dies that it's essential – for Christine particularly – to have operatic, classical training. Regardless of a mic or not, it doesn't matter. It is very classical, and very operatic in nature. And without my training in the opera world, I would not be able to have sung this tour for a year now."
And just how much of the previous show makes its way into Love Never Dies?
"They took the principals over to see 'Phantom.' And after being in rehearsal for about a month, when I saw the show again it was pretty incredible. Andrew Lloyd Webber, the genius that he is, very purposely and poignantly took bits and pieces of 'Phantom' and resurrected them in Love Never Dies at very parallel moments in the story. So you'll hear bits and pieces of melodies sprinkled throughout, and perhaps harmonies. It's very purposefully done, and geniusly so."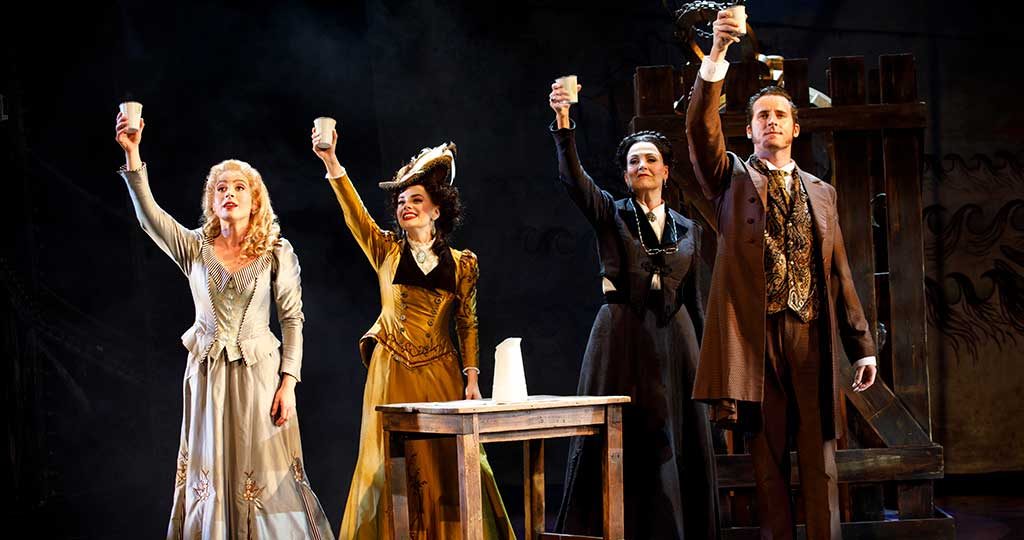 There are many things that make the tour special for Meghan, but the audiences are always at the top of the list.
"Like the iconic roles in opera, Christine Daaé is our modern day iconic role. Everybody in the world knows who she is. Phantom is done literally all over the world. So to play her ten years later, this is a great responsibility on many levels. Because everybody knows who she is at seventeen and eighteen years old, and now it's my responsibility to portray her as an adult. As a twenty-eight-year-old who has matured and grown up, and really blossomed from the seeds that were planted ten years before. And of course, doing the US premiere. No one in the United States had ever seen it before."
When it comes to a specific moment during the show, she says one of her favorites is singing the title song – "Love Never Dies."
"It is incredible every night, to be able to sing this aria – because it is an aria for sure – to the audience and connect with them on this level. The fourth wall is there, but it's not at the same time. And you're really exchanging an energy with them, to sing this beautiful song that is really unlike any I've experienced before. She's performing it for the audience, so suddenly they become characters within the show – whether they know it or not. And I think that is pretty magical because the flow of energy from me to the audience becomes extremely strong and intimate. Even if we are in a six thousand seat house, suddenly it's a direct connection as opposed to observing a story. They're in it."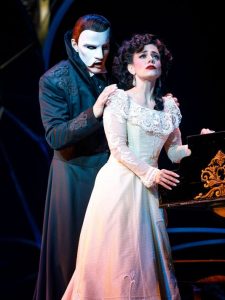 When asked if audiences who have never seen Phantom will be able to follow the new show, she didn't hesitate.
"You definitely don't have to see the first one. I think if you see it, and you're a fan, what a wonderful opportunity to find out what happened to all your favorite characters. But indeed, this is a love story. And I think you can come into this piece and experience the love story in its fullness without missing anything either."
For those who want to use this show as a stepping-stone into the world of Opera, Meghan has some suggestions.
"One of my first operas was Carmen. What is really cool about opera, and what I think the general American public may not realize, opera is kind of all around us. We hear it on commercials or cartoons. But we might not realize that it's actually opera. I think there's such a misleading vibe about what opera is. It really was music for the masses when it was first created. And I think there is an idea that is not necessarily correct about opera. It's a beautiful art form, and indeed it is accessible to the masses."
So here are some of her recommendations, off the top of her head.
"Carmen is a wonderful one to start with. The Barber of Seville is pretty fun. La Traviata and La Boheme. Those would be my beginner's guide to opera. Although I didn't include any German operas, I think those are some good starts."
See Meghan Picerno as Christine Daaé in Love Never Dies at the Fabulous Fox Theatre, September 18 – 30! Tickets range from $35 – $99, and are available at MetroTix. For more information, visit fabulousfox.com or the official tour site at loveneverdies.com.