Interview: Jonathan Weir Talks Playing Jafar in Disney's ALADDIN National Tour, Nov. 7-25 at the Fabulous Fox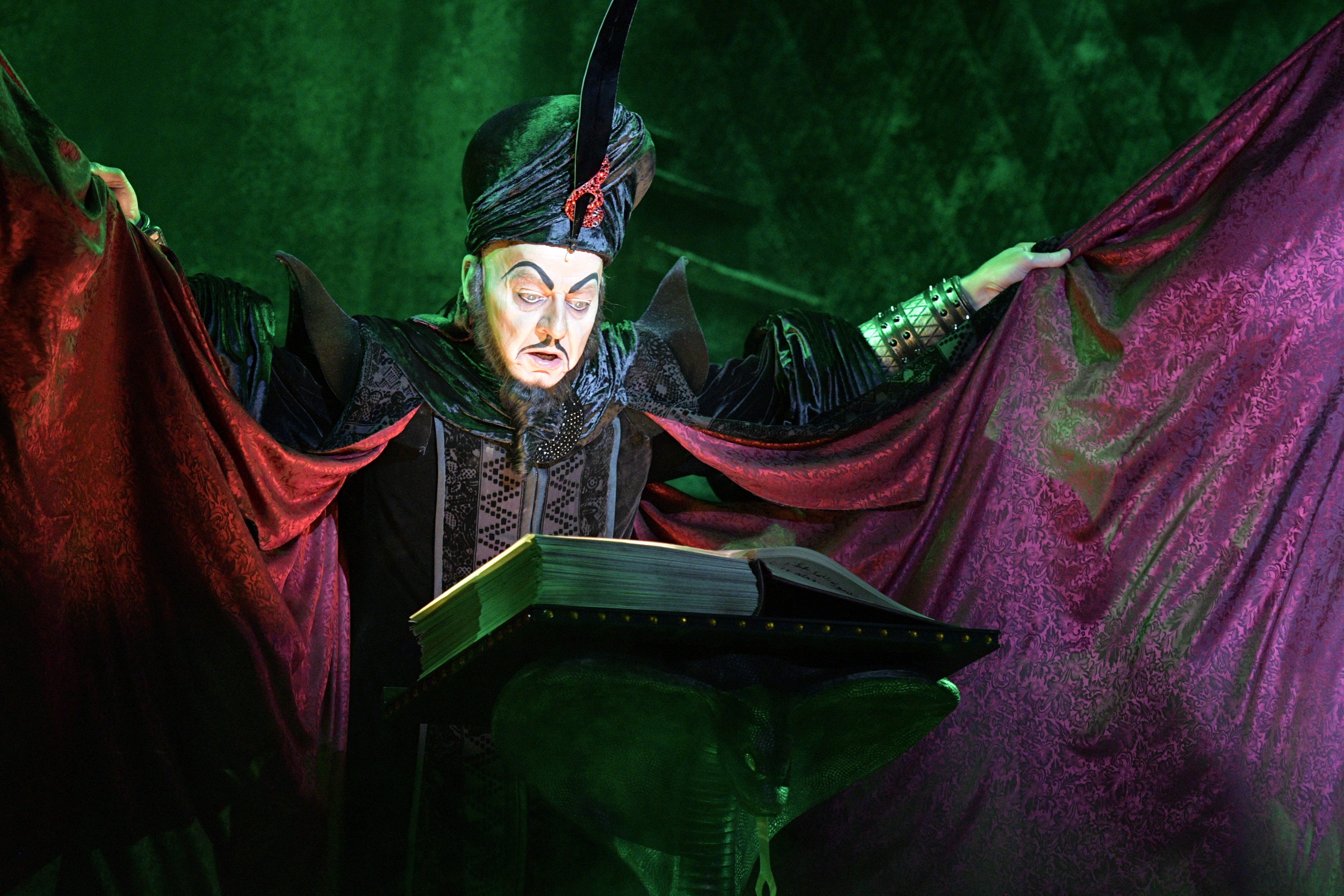 See Aladdin at The Fabulous Fox Theatre in St. Louis November 7 – 25, 2018!
The show is directed and choreographed by Tony Award-winner Casey Nicholaw (The Book of Mormon, Something Rotten!), with new music by Tony® and Academy Award® winner Alan Menken (Newsies).
Jonathan Weir plays the evil villain, Jafar, in the show. He and the cast of Aladdin have been out on tour for over a year. They left Chicago after it opened there (where it ran around five months), then started out on tour last September.
The actor grew up in Bellville, IL and East St. Louis. He is the youngest of 10 kids, born to a big Irish-Catholic family. 7 of his 10 siblings live in St. Louis today. He and his wife moved to Chicago in the late '80s and have been living there ever since.
Jonathan says that college was the first time he thought, "Oh, I could make a living doing this!" He has been a professional actor for over thirty years now, making a living doing what he loves.
This is not Jonathan's first Disney production. He was a standby for both Scar and Pumba on the second national tour of The Lion King.
"I did it for a year, left, and then continued to do it for thirteen more years. They would call me every couple years to come in and stand-by on the tours. And then they called me to go to New York, so I went there three different years in a row – 8 weeks or 9 weeks. So I got to do that whole thing, and make my Broadway debut in the show. So, Disney has been very good to me. I never dreamed it would be this long of a relationship, but it's been a lovely experience."
He says that the make-up and costume for Jafar and Scar are about as equally intense.
"I'm in the makeup chair about forty minutes," he says. "I get the theater about an hour and fifteen minutes before the show starts. So, while I'm not wearing a mask, the costume is twenty to twenty-five pounds of fabric that I'm hauling around every show. It's just part of the job description."
Jonathan says, of course, he has been a fan of Disney over the years.
"Yeah! How can you grow up in pop culture and not be exposed to it? My first live show was at The Muny when I was in third grade. I never dreamed I would be doing this for a living at that point. The first Disney movie I remember seeing was when we went over to St. Louis to see 'Mary Poppins.' So that was early '60s. And of course, we had the albums that Disney would put out. They used to put out records of their music and from Wide World of Disney. I grew up with my brothers doing skits in the basement, at family parties putting on an album and acting it out. So yeah, I guess you could say I was a fan of Disney. It's been in my life for as long as I can remember."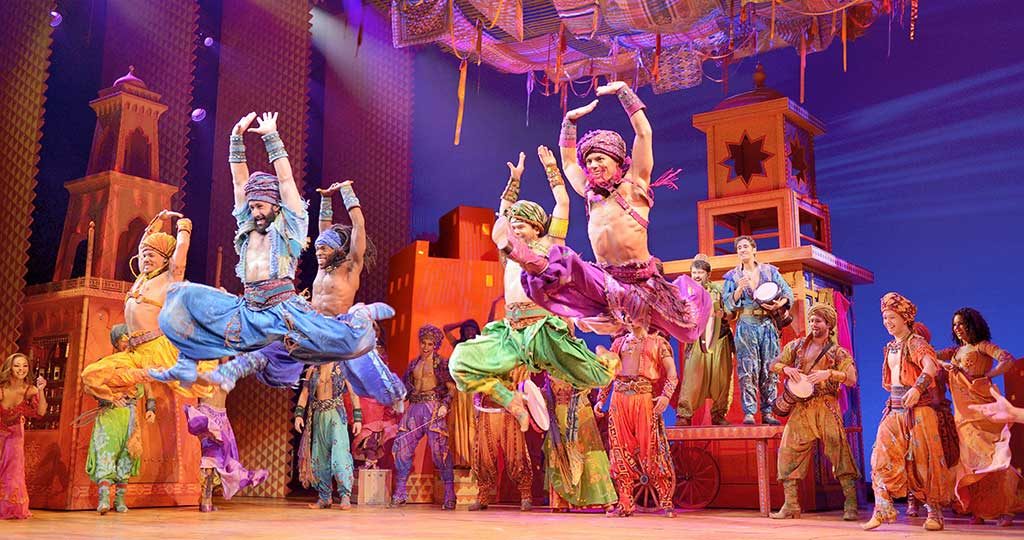 Speaking of Disney, they've been able to capture not only animation but also live-action films with their remakes and of course, Broadway with the live shows.
"They have the formula down, that's for sure. And they do it right! The thing about 'Aladdin' is, it's different. It's just like 'Lion King,' where there's a different twist on it… It's not just bringing the movie to the stage. There's some difference in the story, and the plot-line, and the characters. For example, in the original movie, the monkey – Abu – wasn't a monkey – it was three friends. In the interest of time, they compressed [the character] into an animal. When they decided to do the live show, Alan Menkin said, 'We've got these songs we created for these three friends.' So they were able to bring the original intention back to life and revived it for the Broadway show. So the thing about the show, and I've been doing this for over a year and a half, is that I'm constantly amazed that it surprises; it delights; it's spectacle; it's an adult theme with relationships, and a son trying to do good by his mother who has passed away. There's burgeoning love, friendship, the identity of who we are as people. It's got some adult themes to it. So it has great appeal to families, but it's also a great date show."
The actor says for young adults, especially those in their thirties, this was their movie growing up.
"It holds great appeal for a wide group of folks, and I think the audiences who come to see it are just transformed and swept away. There is all the Disney spectacle and magic you could ever imagine, flying carpets, and the rest. There's a lot of heart within the cast and the company producing the show nightly (the crew and cast). It's a joy to do."
Although he is playing the villain of the show this time, Jonathan has played a wide variety of roles in his thirty-plus year career.
"As an actor, that's the goal – to play a variety of characters. Yes, I've played villains. But every role is different too,  especially for Disney. I like playing characters who have a strong point of view… I always say it's good to be bad! But I've played sympathetic characters, I've played strong characters, and all sorts of types of people. I'm enjoying this certainly, right now. It's affording me the opportunity to travel the country, see a lot of family and friends."
To prepare for the show every night, Jonathan is already very familiar with the character. But he still has exercises he goes through.
"I do a physical warm-up. I do a vocal warm-up. I take my moment before I enter the stage to do my prep. But, for the most part, we're on show six-hundred and twelve now. So it's about staying present, and about listening, and about receiving the information and responding. As basic as that sounds, I would say the brain likes patterns, right? But also rebels against patterns. So sometimes it's about wrestling focus and trying to stay present and not anticipate. Because the audience deserves to hear the story delivered with the intention of the directors, and fresh every night. And honestly, it is different because audiences change every night."
It's hard to choose, but Jonathan was able to list one of his favorite parts of the performance each evening.
"One of my favorite moments that I'm in is the opening number. It's called, 'Arabian Nights,' and it's the only time the entire cast it up there together singing. I like that sense of all of us up there, getting ready to tell the story."
Another favorite moment is getting to see the faces in the audience light up with joy while watching the show.
"It's such a delight… and we're in big theaters like The fox… to hear that many people every night, come together – politics, religion, race, and all of that aside – to hear that collective laughter is so rewarding. And I think it's healing for people. That's the power of theater. We have the power to transform, to take people on a journey, and to reflect the human condition back to them. That's highly satisfying, and that's the part that keeps it fresh every night."
Tickets are available now for Aladdin, playing November 7 – 25 at The Fabulous Fox Theatre in St. Louis. To purchase tickets, visit MetroTix.com. For more information, visit FabulousFox.com or the official tour website at aladdinthemusical.com.