Interview: Johnny Rabb, Drummer For Collective Soul

Johnny Rabb, drummer and background vocalist for Collective Soul, took some time to answer some questions for ReviewSTL ahead of their upcoming performance at 2019's Wayback Pointfest this summer at Hollywood Casino Amphitheatre. On the upcoming performance, Johnny stated "I'm so excited to perform in St. Louis, especially because it's so close to Indianapolis (where he has family.) We've done so many shows at Hollywood Casino Amphitheatre, it's always a good time. I'm looking forward to seeing the other bands on the bill. It should be a great show." Besides the venue, Rabb is excited about the crowd. He's been lucky enough to have several family members see him perform at the venue in the past and has fond memories of performing shows with Goo Goo Dolls and Sammy Hagar (both of whom recently performed in St. Louis this previous season.)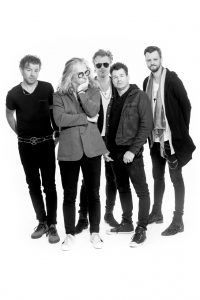 The band is celebrating 25 years together in 2019, and most recently released their latest album titled "Blood." According to Rabb, at least four or five of the tracks are promised to be performed in their upcoming set. Much like "The Dosage" tour, being the first set of performances in which Rabb had joined the band (he joined in 2012,) it would be a desire for the newest album to be performed in its entirety, much like they had done with previous records in the near future.
When asked about the inspiration behind the latest album, Rabb stated that the record is about a lot more than the relationships bound by actual blood, rather it be a brotherhood or a surrogate family of performers and crew, the strength and foundations of those relationships are truly remarkable, and serve as a muse for many of the newest songs released. On his own personal favorite tracks off the new album, Rabb is partial to "Observation of Thoughts," "Porch Swing," and "Crushed." The organic energy of "Crushed" and Rabb's performance on the drums is one of the most authentic performances from the album Rabb recalls.
The crowd's reaction is one of the band's favorite times to be on stage, rather it's one of their classic hits such as "Shine," or one of Johnny's favorite songs to perform live, "December." Before joining the band, Rabb was a fan of the song and was excited when he got to perform it live. Interestingly enough, the namesake of the group was mentioned, "Collective Soul," in the aspect that all of the members contribute something different when in the recording studio, recognizing that they all are a piece of a giant machine, 'collectively' working together to create music. Rather it's E Roland's writing, Dean's rhythm, Jesse's guitar, Johnny's Drums, or Will's bass – each member brings new energy each and every time the musical process occurs. In Rabb's words, they are "a traveling family."
Rabb also noted that he also takes a moment each show to soak in the audience and the separation of feeling their energy, aside from performing and is eternally grateful each and every time he gets to walk out onto a stage. From the upcoming show, when asked what is one thing Rabb would like fans to leave with, he said "Enjoyment and good memories; Something positive that they can bring away with them; A moment in the music where they were able to make a connection. Also, I want them to have a great rock show experience."
Collective Soul has been influencing rock music for two and a half decades, and it's safe to say the band still has a lot of drive left in them. They are currently touring with Gin Blossoms, but are bringing that tour as part of the lineup for 105.7 The Point's "Wayback Pointfest" to Maryland Heights. Their latest album "Blood" is available for purchase now, and tickets for the show, taking place on Saturday, August 31st can be purchased through LiveNation. This is definitely a concert you won't want to miss, so make sure to check it out, as well as keeping an eye out for our coverage of the event!