Interview: Elliot Collett of Future Thieves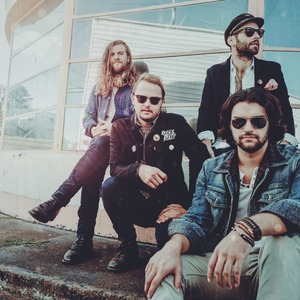 Fans of the Future Thieves will want to make sure they are at the Enterprise Stage at Loufest on Sunday at noon. The Nashville based band will play a 45-minute set, opening the stage for the afternoon. ReviewStl's Jeremy Housewright recently had a chance to talk to Future Thieves' frontman Elliot Collett about how the band got together and the band's first show in St. Louis.
How did the band get together?
We've all lived in Nashville for five years, but we didn't know each other when we were all moving down. I was in a different band and Nick and Austin, the bass and guitar players were in separate bands and they both worked at a country club that my girlfriend worked at. I got a job there and met them working at the country club. Our bands kind of broke up so we got in a room and started jamming with a friend of mine from California, Gianni, the drummer. I knew him from the people who I knew out in California, so we started playing together in a living room and it just kind of clicked right off the bat.
Living in Nashville, you're surrounded by country music. Does that have any influence on your music?
No. Nashville is a very small town. Musically, it's so diverse and spread out, you really don't have to have that influence if you don't want it. It's just something that's definitely there and you know it's there like the elephant in the room. We don't really think about it. I have an influence from older country that my dad used to play in the car from the early 90's. There's definitely that kind of influence. But, as far as everyday Music Row stuff, we don't live in that world, so we just really don't have anything to do with it. It's kind of just us out about and touring alot.
The band released a single ('Sucker') back in March. Is there a new album in the works?
There is a new album in the works. That single was actually just a single on its own though. We recorded for two straight weeks down at Sonic Ranch in Texas. As soon as we got home we had to pack and go tour in Europe for about a month and a half. As soon as we got back here we were touring. We kind of recorded the record and toured in between, so we are finishing it up now. It's been a while coming. It should be out before the end of the year.
You mentioned touring in Europe, what's the biggest difference in touring in Europe compared to touring in the U.S?
It depends on what country you're in. A lot of those countries tend to take care of you, as far as when you get there, there's a full spread of food. No matter how many people are going to show up, they treat you like Aerosmith. In Germany and Switzerland they did that. In France they did that. In the UK, it's basically like being in the states. In the states, you get lucky every once in a while. It's pretty tough touring in the states as far as venues catering to you if you're a nobody. It was great, getting to experience that over there.
The band has played a number of festivals. What's the biggest difference in playing a festival and a small venue?
It just depends. If there are a bunch of people at the small venue then it's just like the same experience. If it's just like a Wednesday night and nobody is there,it's just like whatever. At a festival, you're guaranteed that people are going to be there. There are also a lot of people who will just look you up because your name is on the bill. It's some very good exposure when you're playing at a festival. There's plenty of stuff backstage. There's free food and beer. That's always a perk.
When was the last time the band played a show in St. Louis?
I don't know that we ever have. It will be our first time in St. Louis. We've pretty much played everywhere else, especially as far as the Midwest goes. I'm pretty excited. I've been to St. Louis once, but never got to spend time there.
What are some of the band's musical influences?
I'm a big Ryan Adams fan. I know Nick is really into Metallica. You can see it in his bass playing. Austin's a big time Indie-rock guy. Him and I share a love for Death Cab For Cutie and just stuff like that from the early 2000s. Gianni loves jazz music and 70s music. The guy just loves good music.
So, for the St. Louis folks coming out to Loufest, what can they expect from Future Thieves?
Well, we're going to play a lot of our new songs. We'll play some of the old ones that are nice and energetic. We've really been playing the new songs a lot that will be on the new album, so people can get a taste of it.