Interview with Tyrese Gibson about "Legion"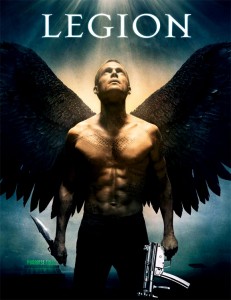 Last week we were able to catch up with Tyrese Gibson, to talk about his latest movie "Legion." The film, opening in theaters nationwide on Friday, is about an "out-of-the-way diner" where battle ensues for the survival of the entire race. Interested yet? God sends a "legion" of angels to bring on the Apocalypse. Tyrese plays Kyle Williams, an innocent bystander that stops for directions at the wrong time, at the wrong place. He ends up getting sucked into the madness, and ends up fighting for survival.
When asked about the recent number of action films he has been in lately, and what his preference is, Tyrese said "It definitely falls under a strategy. I think in the beginning of my acting career, even though I've only been doing it for a minute and a half, again, in my acting career, I was taking the opportunities as they come. And there wasn't no real thought and strategy and planning and sense of direction as to what I wanted to do. I think God's favor has allowed me to sustain a pretty consistent energy. But this film has action in it. I don't know if you guys have seen it yet. Hopefully, you have, but this film has some action in it, but there's some dramatic acting in this movie. It takes me back to some Baby Boy type stuff a few moments that I have with Charles Dutton or whatever else."
"I just try and create a happy balance. I don't ever want to be the popcorn, bubble gum actor that's only doing the box office type movies. I want to definitely maintain my respect amongst the acting community, amongst the Denzel's of the world and have him look at me like I'm doing my thing. Last night was a great compliment, … Short was at a party, and he came all the way across the room to tell me, 'Tyrese, you've been doing your thing. I want you to know I look up to you.' I'm like, "look up to me?" That really humbles me and really makes me feel like this energy that I'm putting out there as an actor, somebody is watching."
Since Tyrese has been "doing his thing" for some time now, and this isn't his first rodeo, there weren't too many obstacles to overcome when preparing for the role. He said, "Honestly, it wasn't a super challenge. It was a challenge more so from the locations and some of the effects and things like that that we had to do on the set. But it was just another beautiful day in the garden." On the film's director, Scott Stewart, Tyrese said "he's ahead of his time. I had my doubts, I can't lie. I had my doubts about a first time director, just in general, not him in particular. But I've had my experiences a few times with first time directors and maybe someone that's working on their second film. You get to the set and you almost feel like you have to do your job and do their job at times, and preparation meets opportunity. Scott Stewart was very well prepared. He had back stories on all of the characters. He had the storyboards. He had the image and what the look and the direction of the film was. So for him to make his film debut and have this many actors on the set at one time, all these different personalities, all these different questions, being bombarded, he handled everything with a grain of salt and did his thing. It was a great experience."
Tyrese credits having great agents to get him the role in LEGION. "I give my team love all the time," he said. "They keep their radars out there for projects like this. Once Paul Bettany signed on to a Sony Screen Gems project, it was like, okay, this is like the heavyweight actor that's classically trained in all of this stuff and coming off of the Da Vinci Code, it's like, what's this project that Paul Bettany has signed on to. Everybody was buzzing about it and then Charles Dutton and then Dennis Quaid. And then that's when they came at me and I was like, man, that's just a heck of a cast just in general. Let me see this script because if they signed on, more than likely I'm going to want to sign on. I read the script and it was done."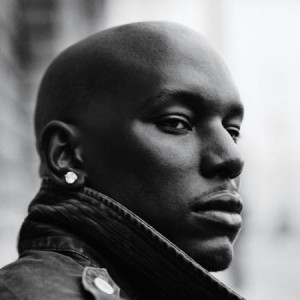 In the movie, Tyrese acts alongside Charles Dutton and Dennis Quaid. On his experience with the actors, he said "I worked with Dennis Quaid before on Flight of the Phoenix, so that felt like a family reunion. I said, 'Dennis, what is it about me and you and deserts? What the heck is going on there? How do we keep ending up working together in the deserts? This is crazy.' But Charles Dutton, a lot of people might not know this, but he's like a historian, that guy. He has dates and times and he has information about all of this stuff. He's a real historian. You could sit up and talk with him for hours. Honestly, when I end up doing a scene with him on the roof and it felt like a mentoring moment where he was teaching me and making me aware of stuff as a much older figure, that's the way it felt on the set. I said to Scott, 'This time you caught a mentoring session on camera.' So it was a pleasure working with Charles. I definitely want to do another one with him because I learned a lot. I was a student."
Tyrese said that he was able to relate to his character, Kyle Williams, in the movie. Even though he wasn't going through the same problems while filming the movie, he says that he "could relate to relationship issues and issues that have to do with a child and that type of stuff. And so I went into my real feelings on Kyle with the transition. I think we call it Kyle in the middle of a transition. He's on his way to court dealing with a nasty divorce and dealing with custody issues. This guy just falls over because he's lost. He needs directions to where he's going. He gets sucked into the matrix. I was just there. I wanted to be the voice of reason. When I had a conversation with Scott and I had a bunch of detailed notes, I said, look, man, whatever you do, don't have any of my friends because some people look forward to reviews from film critics and that type of stuff. But I always look forward to my friends that keep it real with me, telling me what they thought about a movie or a performance I did. I'm like look, don't have me being the black guy from the streets running in the bushes tripping on a branch and acting like I can't get up because I'm not going to be that guy. If there's an old lady crawling on the roof with baby teeth, then more than likely I'm speaking on it. I'm not going to sit back and act like this is normal because I'm from the hood and this is not normal."
What appealed to him about the script was that "it was a great read. Even when I tried to figure out a way to get out of it, once I met with Scott and saw the storyboards and saw how he was looking to do this and set this up, I was like, I'm in. It's just one of those movies that really jumps out at you. This is what I would say across the board. The beautiful thing about writing screenplays and directing, I'm a screenplay writer and not a director yet, but you look at movies like Avatar and you look at movies like a Transformers, we're able to experience people's interpretations of the way they see the world. That's all it is. Because I was in the movie doesn't mean I believe that it's the end of the world. It doesn't mean that I believe that angels have abs and they really work out and they have machine guns and knives. It doesn't mean that I believe that, but it's a movie and we showed up to help Scott Stewart to bring his vision to life."
Many people do not know that Tyrese has a comic book called "Mayhem." About the hero, he says that "he's a very strong black superhero. I'm really proud of the momentum and the energy behind this comic book creation. I went to Comic-Con when I was out there promoting Death Race with Jason Statham. That energy out there was so infectious. I was like I have to figure out a way to be a part of this world and try my best to contribute to this world. So me and my partner got together, we went through some images of some really strong comic book characters and here we are, we sold at least 40-some thousand comic books with the combination of all three series."
"We made history with iTunes and Apple where we invented the first digital comic book that was being sold on iTunes LP, which is the latest version of iTunes. And so that's being sold on iTunes internationally in over 38 countries. And it includes voiceover. It includes animation, sound effects…and sound effects. We also scored it and added music. And so I did the voiceover for Mayhem. We hired these other—it was basically like Pixar. We did all the voiceovers, it was just crazy."
"You get in front of your laptop. You're able to download my latest single on all three of the digital comic books. You get the behind the scenes, the making of. Most of the people are like this is way too much content for only $2.99. It's been amazing feedback and the downloads have been amazing and we're rolling. Hopefully it will be a franchise one day."
When asked about social networking, and how it plays a part in the success of his films, Tyrese said that he embraces the new technologies. "I think of the people that follow me on Twitter as my congregation," he said. "Anybody who follows me on Twitter knows that I love to pump some motivation and inspiration out there and really give people permission to try and be great because sometimes our young generation and even adults, sometimes people just need permission to try and be great. I love to motivate and inspire, as I have different conversations throughout the day and night, I Tweet about it. You put it out there. You just never know who's going to relate to it. I didn't set up Twitter because I wanted people to call me sexy and fly all day. I wanted to motivate and inspire and make people aware of things that they probably couldn't get anywhere else. I have over a million followers. As I put trailers up and different news articles that come out where they give me love …certain projects, selling comic books and whatever else, it's just been an amazing run."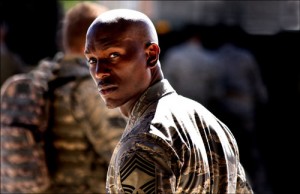 In the past, Tyrese has mentioned being interested in a role that Marvel was developing, named Luke Cage. He said that he is definitely still interested in playing the part. "I will absolutely play the role of Luke Cage when that opportunity presents itself. I will take that in a heartbeat. It's in development hell right now. It's one of the most famous black superheroes out there. It's a lot of pressure to get that script right in particular. Especially with all of the stuff going on with Disney buying Marvel and all of this, it's in development hell. But I'm excited about the possibilities. I would love to help bring that to life in a heartbeat."
Even with his own comic book superhero, and a strong interest in the industry, he says that he never read any comic books growing up. "I started getting into comic books when I went to Comic-Con. I went on record and said I'm no veteran in the comic book world, no. But that energy out there, I called it selfless passion. That you have all these guys running around with their favorite comic book characters and they're not ashamed of it. They're not embarrassed by it. This is who I love and this is the character that I could identify with and I was like, I had to add to this world. I have to come up with my own character. And hopefully when I come to Comic-Con this year, it will be a few Mayhem's running around out there."
When asked about his spirituality, and how it affects his film career, Tyrese said "God will never give you something somebody else is supposed to have. It's arrogant to believe the next second belongs to you. Stuff like that is kind of how I live my life and the words I live my life by. The other one is you can often tell how far the life and career will go based on the five people that you spend the most time with. If you have a problem with your life, you should have a problem with the people in your life. So the foundation of everything that I am and what I stand for, my spirituality, I'm a Christian by faith. I'm at church every Sunday. I don't go to God when I'm going through problems only. I'm consistent with my relationship and he's every bit of the source of all of my blessings. I'm just a student. I'm just a shepherd. I'm just out here trying my best to maintain the blessing because He could have given this to anybody."
"I think there's definitely a niche for this audience and there's going to be a bunch of people that's probably never been into these types of films that wants to come out because there's a bunch of different fans out there of a bunch of different movies that all Charles Dutton, Kate Walsh, we're all bringing a different dynamic to this genre. I might have all my fans showing up for sure and they probably don't support these types of films. They're not into them, but I like taking my fans on adventures. Like I said, anybody who follows me on Twitter, they know that I don't limit myself to one or two specific things. When God blessed you with a stage, you have to maximize it. They always say it's a jungle out here, but the problem is most people are swinging from the same vine. When I've seen Tarzan swinging from the same vine, I get bored as hell."
When asked about working with Paul Bettney, Tyrese said, "I'm going to be honest, I've done a few movies here and there, but it was my first time ever sharing scenes with an actor that I was not a fan of before I worked with him. I wasn't even aware who Paul Bettney was. Like if somebody said Paul Bettney, because I've only been doing this for a quick minute, I would have said, "Who is that?" But I remembered him from the Da Vinci Code. That was my first time ever seeing him. I was like, oh, wow, he's in this? Okay, that's a good sign."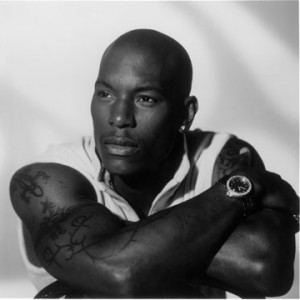 "While I was doing scenes with Paul Bettney, I was actually watching him as a person in the audience, like I was a fan, as a new fan. And then I was like oh, shoot, I have dialog. I'm supposed to say something right now, because he zoned out. That guy, he's very intense. And then he's at the same time the most lovable. He's like the tallest, coolest, both of our kids are hanging out. He brought his wife over, Mrs. Oscar, Mrs. Jennifer Connelly came over to the house for dinner and we're hanging out and partying and dancing. That's the kind of environment I like to create. It's big jokes and partying and big energy while we're fighting the end of the world."
Even though Legion has some religious themes, Tyrese said that he wasn't worried about how they would reflect on his real-life beliefs. He said it was "just another movie… At the end of the day my faith was not tampered with. It didn't make me feel a certain kind of way. At the end of the day, this is Scott Stewart's version of the way he sees the world. It's like me being offended that James Cameron thinks everybody is blue with big eyes. It's like that's the way he sees the world and we're actors and we're supposed to show up and help them to get their visions out. I was happily involved in this project. We had a lot of fun on the set. There was great energy and synergy. I look forward to working with Scott and Paul and the rest of the team again.
If you all end up talking to other folks from this movie, you all ask them. I'm not the guy that's like the actor that wants to only hang out with the actors. I'm on the set hanging with the grips, lighting, electric, catering, wardrobe, the PAs. I don't do the big I's and little you's and I'm not the Hollywood dude that wants to focus on the actors and the producers, so that I could stay employed. Everybody is important on the set. We're all contributing to the outcome of something special. That's how we get it done. So when I do parties and hang out, everybody comes, the Transformers on down. Ask anybody. I do a party, everybody is there."
When asked about any pranks or funny things happening on set, Tyrese said "one of the things that you all should know is that I was really scared of the old lady. I was really scared of the old lady and I was really scared of Doug, the ice cream man. I wasn't hanging out with them on the set. Like I'd see them coming, I went the other direction. I sat next to the old lady yesterday, man, I was nervous. I was nervous. She said, "Don't be scared of me. Come closer before I bite you." I was like, you don't understand. You're messing with my childhood right now. You've started giving me nightmares, lady."
Tyrese says he really doesn't have a preference on the types of movies he acts in. "I said to myself I've been doing it now for a quick minute and a half. I'm like, listen, I want to give every type of genre of film a shot. I don't want to be that guy that's locked into every urban movie or you have to be in a cast with all black folks. I like to switch it up, do multi-cast. Paul Bettney is from London. You have Kate Walsh and Dennis Quaid and Charles Dutton. Everybody has different ethnic backgrounds and it's just a big melting pot of love. That's the way I like to do it. So I don't really have any limits. I have a role coming up that's going to shock the world. I can't even tell you all about it, but I'm letting my hair grow out right now and I'm putting on weight because I'm going to shock the world when they announce this. This is going to be like ooh-we." When asked about the time-line for the announcement, he replied "I can't say, I can't say. It's a project I'm about to do, but it's going to shock the world. Once again, it's going to be like that's just another way to go about doing your thing. I'm not limited to just doing films with robots or doing south central LA type movies. We like to switch it up."
On doing a romance film, Tyrese said "I would love to do a romance film, because my voice is down here and if I was doing a scene with a beautiful woman – anyway, I would love to do a romantic movie. Come on, I've built my career on romance. How can you ask me a question like that?" His leading lady? "I'd take me some Paula Patton, or Halle Berry. I'd take me some Scarlett Johansson or Angelina Jolie. I'd go for Diane Lane. Maybe she's an older woman that's attracted to my sexy black."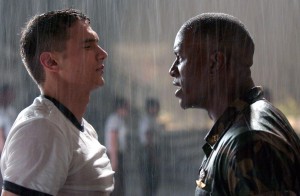 Tyrese said his biggest challenge was not actually a movie itself, but working with James Franco. "That was just hell for me. When we did Annapolis that was like the worst movie experience ever, ever, ever. It was hell on that set. I did not have fun. It was a really bad experience. So for me at a certain point, it's not about the money. It's not about just doing another movie. You look forward to great experiences. You look forward to feeling like you're showing up to learn something, because I'm a student. Working with Charles Dutton and Paul Bettney and Dennis Quaid, I'm on the set taking notes. I'm watching. I'm on the set even when I'm not filming, looking at them do what they do, just trying to better myself. I'm a student."
Mario decided to change topics, and ask Tyrese about his music career. "To talk about your music, I'm listening to the song, 'Take Me Away,' which is a certified hood ripper. I'm just wondering what your interest is in music outside of hip hop and R&B."
Tyrese replied, "It's a hood ripper. What does that mean? Mario answered, "Just a certified gem, man. It sounds real good." After a good laugh, Tyrese responded "that's the first time for that one, a hood ripper, okay. I appreciate it. Like I said, even when it comes to music, I've never done music like 'Take Me Away,' but I should look it up there. It's called 'Mayhem, Take Me Away.' It's actually a song that I did for the Mayhem soundtrack for the Mayhem comic book. It's a song that gets downloaded for free when you download issue #1 of Mayhem on iTunes. I actually shot a video. If you type in 'mayhem take me away officical video,' when we did Transformers we went to eight different countries to promote the film and because I only had to do two, three hours of press a day in each one of these countries, we had the rest of the day off, I had a Sony HD handheld camera and I went throughout all of the countries and I filmed me shooting my video. My security guard was holding my camera and I shot a video in eight different countries and had people partying and dancing. The feedback on the video has been crazy. That's also something you get as a free download when you get Mayhem issue #3 on iTunes. It's on YouTube right now, type it in."
The last question of the interview was about future plans to do another album with TGT at this time? Tyrese said, "I would love to, but I think the timing is really bad right now. Most of the people in music are trying to transition into film. The fact that I'm in it and there's some real momentum going for me right now, which is a blessing, I want to just maintain this blessing and not take it for granted. This goes back to my friend, one of my really close friends and mentors, Will Smith. He's like, "Tyrese, you know I love music, but I had to decide what it was going to be because these movies just kept coming in. And I'm like, okay, maybe this is an unexpected blessing that I had never seen coming. And now that I'm here, let me just go ahead and keep going because music is always going to be there and I can eventually do another album at some point."
"So from that conversation, he once again gave me permission to make a stern and firm decision about what I wanted to do. So there will be another Tyrese album. The beautiful thing about what I was able to do with these comic books is because it's on iTunes, it was a mandatory song had to be attached. So the first one is "Mayhem Take Me Away." The second one, I have a duet with Jewel called "Make It Last" produced and written by Baby Face. The third one is a single that's out right now called "Put Up With Me." So musically, that's kind of like my last three records that I've been able to put out there for my music fans. I did it exclusive through the iTunes download."
Legion opens in theaters
everywhere this Friday, January 22
. Watch the trailer below: