Interview: Aaron Lewis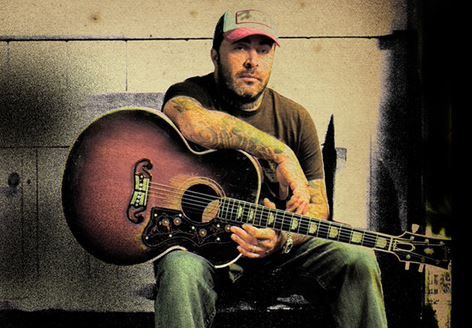 Aaron Lewis is known for being the lead singer of Staind. However, the band has been stagnant since 2011, as Lewis ventured into country music. It's been a pretty successful ride for Lewis, as he has had a song go platinum with "Country Boy," and had a number one country album in "Sinner," his latest effort. While rock music is what made Lewis a household name, he continues to build a steady following of country music fans. Lewis is currently on tour in support of his album Sinner and will be playing at Chesterfield Amphitheater on Friday, September 1. ReviewStl's Jeremy Housewright had a chance to talk to Lewis.
Growing up, what country artists did you listen to?
I was forcefully listening to my grandfathers country music. It was Willie, Waylon, Mearle, Johnny Cash, George Jones, David Allan Coe. I had no choice in the matter.
A lot of people, including myself, have noticed the new album has an outlaw feel to it. Did you mean for it to come out sounding that way?
I guess so. That's the country music that comes out of me. I didn't make a conscious effort to say I want this record to sound really old like outlaw country. That's just the music I was forced to listen to as a kid. It's just in there.
Given the success that Staind had, did you ever think you would be doing country music?
Not a chance. Before I wrote "Country Boy," I would have laughed if you said I would put out a country record.
How did it feel to have "Country Boy" to go platinum?
It was pretty cool. I wrote that song on a bet with my plumber. The plumber was like, you can't write a country song. I was like, alright, and 15 minutes later I had Country Boy.
You had Willie Nelson, Alison Krauss and Vince Gill on the album. How did you go about getting them to appear on the album?
There was no rhyme or reason to it really. I love Alison Krauss' voice. I knew that Buddy Cannon, my producer, had a good relationship with her, and asked him if he'd see if she would come in. It was the same with Vince Gill, same with Willie and the same with George Jones, Charlie Daniels and the same with basically everybody that's been on the record. Everybody that's been on the record has been because of the people involved.
Why do you think the album has not gotten a whole lot of play on country radio?
I can tell you what I keep getting told over and over again is that it's too country for the country radio format. I find that quite laughable that there would be music that would be too country to be played on the country music format. It doesn't really make sense to me.
Do you think it's because today's mainstream country has gone too pop perhaps?
Maybe, yep. I think their focus point on their demographic is alienating the majority of the diehard country listeners.
On Sinner, you perform a song "Travelin' Soldier' with you daughter. How special was that?
That was pretty amazing. I have a charity event I put on every year and for the first time ever, she got up on stage and sang it live with me with the full band. That was a big deal.
Are there any country artists out right now you'd like to perform with?
Sure! Of course there is.
Do you have any in mind?
Sure! I don't want to alienate one by saying someone else.
Fans of Staind have been asking, will there ever be another Staind record?
I don't know. Don't ever say never really. We didn't break up. We just put it to bed for a while.
Do you take pride in the fact that you're writing your own music in an industry that uses only a select few songwriters?
Absolutely. I don't think that there's enough focus on that. This has nothing to do with me. I'm making my own observation. There's some really, really talented singer/songwriter guys out there who don't get the credit. They don't stand out in the crowd when they are writing their own songs. Now, since there's a handful of choice songwriters that are getting together in a room and just putting the beat down on a song, it's just become this cliche' thing.
I know you were friends with Chester Bennington. When was the last time you were able to speak to him before his death?
Unfortunately, I hadn't spoken to Chester in a long time. I was truly just blindsided by the whole thing. We were really close when we were on tour together. We hung out all the time together. That was a really long time ago. Careers continue and paths don't cross for a long period of time. Then careers continue and we go in completely different directions because I'm now doing country. Then, you see on the news that somebody you were really close to at one point is gone.
I've watched your hunting show and was wondering if there is a particular state you like to deer hunt in?
That's a tough one. I love Ohio. That's one of those states, that because it's a one deer state, it's a sleeper state. It's not one that gets focused on because you can only take one buck every year. But that also makes it so that their deer herd is very healthy. There's lots of big deer. I love hunting Texas. We've got 55 square miles in Montana that is basically the size of a town that we have full hunting control over. I love hunting out there. I've never experienced anything like our property in Montana. It is the most target rich environment. There is pretty much every single animal that there is a hunting season for. There is just a plethora on this property.
If you had to give some advice to up and coming artists what would that be?
Tenacity. You can't give up. You can't give up and stay true to yourself. It's not easy. And, be careful what you wish for. The majority of it is smoke and mirrors. The reality of it isn't what everybody dreamed.
Is the music industry the type of business that will just chew you up and spit you out?
Over and over and over and over again.
Tickets are still available for Lewis' show at Chesterfield Amphitheater on September 1. Go to Tickefly.com to purchase tickets.