"Inglorious Basterds" Wins Outstanding Performance by a Cast in a Motion Picture at 16th Annual Sag Awards (2010)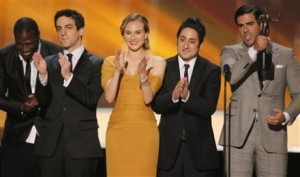 During last night's 16th Annual Screen Actors Guild Awards, it wasn't Golden Globe winner "Avatar" who took home the award for Best Ensemble Performance. The award, often times a predecessor to winning Best Picture at the Academy Awards, went to Quentin Tarantino's "Inglorious Basterds."
The film, which appeared on many critics' top ten lists for 2009 (including my own), has been given much acclaim since it's release in late summer of last year. Christoph Waltz, who gives an amazing performance as Colonel Hans Landa in the film, has already garnered several awards for the role. Waltz won the SAG award for best supporting actor last night, which he can add to his Golden Globe win last week. At this point, there is no doubt in my mind that he will take home the Oscar.
Last year the award for Outstanding Performance by a Cast in a Motion Picture went to "Slumdog Millionaire," which went on to win the Academy Award for Best Picture of 2008.  Will "Inglorious Basterds" follow in it's footsteps?  Or will James Cameron's Mega Blockbuster "Avatar" take the prize?  I can honestly say that "Avatar" was an incredible movie – showcasing the best CG animation ever seen on the silver screen.  But best picture of the year is a bit of a stretch.  I think that there is a big difference between an amazing technical achievement and an amazing film.
The following cast who received the award includes: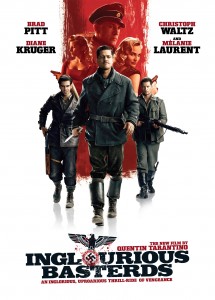 DANIEL BRÜHL / Fredrick Zoller
AUGUST DIEHL / Major Hellstrom
JULIE DREYFUS / Francesca Mondino
MICHAEL FASSBENDER / LT. Archie Hicox
SYLVESTER GROTH / Joseph Goebbels
JACKY IDO / Marcel
DIANE KRUGER / Bridget von Hammersmark
MÉLANIE LAURENT / Shosanna
DENIS MENOCHET / Perrier LaPadite
MIKE MYERS / General Ed Fenech
BRAD PITT / LT. Aldo Raine
ELI ROTH / SGT. Donny Donowitz
TIL SCHWEIGER / SGT. Hugo Stiglitz
ROD TAYLOR / Winston Churchill
CHRISTOPH WALTZ / COL. Hans Landa
MARTIN WUTTKE / Hitler

---
Who do you think will win the Oscar for the Best Motion Picture of 2009?  Sign up now and discuss on myReviewSTL!