House Approves $2 Billion Dollars For "Cash For Clunkers" – Requirements Listed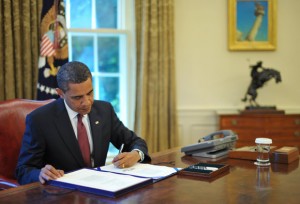 The Obama administration says that the "Cash For Clunkers" program is running out of money, but that rebate requests will be honored at least through Sunday. On Friday, lawmakers came to the rescue by approving an extra $2 billion dollars to keep the cash flowing for the weekend. The White House has not said for certain if the program will continue beyond that, and voting will continue next week in the senate that will determine the future of the clunkers.
The "Cash For Clunkers" program, which may be the most effective stimulus of our time, promises $3,500 to $4,500 in government cash if you trade in your gas guzzler for a fuel-efficient vehicle. The problem is that it is working too well, and had used almost the entire $1 billion dollar budget in under a week! Obama urged the house to move fast on getting some extra funds, so the $2 billion was voted to be removed from a $6-billion loan guarantee fund for innovative renewable energy technology – and dropped into the "clunkers."
Although it is a lot of money, dealers agree that the program has been successful. They are in tough times, so any way to keep their heads above water is welcomed with open arms right now. Many dealers have said that their showroom traffic has been over half filled with customers looking to get cash for their clunkers. With this kind of turnout, It doesn't look like any dealers are going to fight the deal.
Here are the requirements for Cash For Clunkers
Model Year: Car or truck must be at least 1984 model or newer.
Car MPG Requirements: Must get 18 MPG or less in average highway/city driving
Proof of Ownership: Need the vehicles title, registration papers, and proof of insurance
Car Rebate Available: $3500 if car gets 4 or more MPG than clunker; $4500 if car gets 10 or more MPG than clunker
Truck / Van Rebate Available: – $3500 if it gets 2 or more MPG than clunker, $4500 if it get 5 or more MPG clunker.