"HOP" Opens April 1! Enter to Win Passes to the St. Louis Advance Screening!
Enter for your chance to win a pass, good for two!
Synopsis: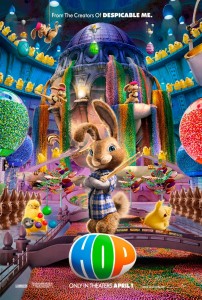 E.B. is the teenage son of the Easter Bunny, and on the eve of taking over the family business, he leaves for Hollywood in pursuit of his dream of becoming a drummer. Once there, he encounters Fred, an unemployed slacker with his own lofty goals. Feigning injury, E.B. persuades Fred to take him in, and Fred finds himself living with the world's worst houseguest. Back on Easter Island, a power-hungry chick who has lived in the shadows for far too long has been plotting a coup to take over one of the biggest jobs in the world. Now that E.B.'s gone, he's got his chance. As E.B. discovers who he really wants to be and who he's meant to become, everything will lead him and Fred in an epic showdown to try and save Easter.
STARRING:
Russell Brand ……………………………………………….. Voice of E.B.
James Marsden ……………………………………………… Fred
Kaley Cuoco ……………………………………………….. Samantha O'Hare
Gary Cole ………………………………………………………. Henry O'Hare
Elizabeth Perkins ……………………………………………… Bonnie O'Hare
Hugh Laurie …………………………………………… Voice of E.B.'s Father
Hank Azaria ……………………………………………… Voice of Carlos/Phil
David Hasselhoff …………………………………………….. David Hasselhoff
DIRECTED BY: Tim Hill
In order to enter the contest, "like" ReviewSTL on Facebook and share ReviewSTL.com with your friends (click the "share" link on the left side of the page). Leave a comment on the contest post, telling us why you want to see the movie and like the post to complete your entry! NO PURCHASE NECESSARY. PLEASE REMEMBER TO READ THE RULES!
Screening is Tuesday, March 29 at Ronnies (7pm).
OPENS NATIONWIDE, FRIDAY APRIL 1
Good luck! We hope to see you at the movies!

[hdplay id=309 width=595 height=375]