Movie Review: "Hoodwinked Too! Hood vs. Evil"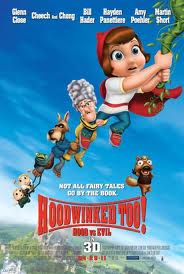 "Hoodwinked Too! Hood vs. Evil" in 3D Review by Jeff Siler
I went in to "Hoodwinked Too! Hood vs. Evil" really excited because I really liked the original "Hoodwinked" and expected a lot out of this film. When I left the theatre that emotion was completely gone.
Hoodwinked 2 picks up where the last movie left off, with Red, Granny, Wolf, and Twitchy all being members of Nicky Flippers HEA, Happily Ever Afters Association.  Red is training with the Sister Hoods in the start of the movie as the other three are trying to infiltrate the house of the Witch who has Hansel and Gretel….we all know the story of Hansel and Gretel so I won't get into all that. Upon attempting to rescue them, Granny is kidnapped and Wolf and Twitchy are forced to bring Red in from her training to try and save her Grandmother. The story has twists and turns from this point that take you all the way to the end of the movie.
Here's the deal. To me, this movie was not very good at all. It had so many plot holes that it wasn't funny and the cast did not live up to their billing. The movie had a cast of (in my opinion) mostly B actors like Hayden Panettiere as Red, Glenn Close as Granny, Patrick Warburton as Wolf, Joan Cusack the Witch, Andy Dick as Boingo.  One major issue with the casting of this movie is that I felt Anne Hathaway was terrific in the first one and when she was recast with Hayden Panettiere (Alpha and Omega, Heroes, I Love You, Beth Cooper) I became very skeptical of what was going to come of the movie. Needless to say Panettiere did not live up to Hathaway…actually Panettiere was actually kind of horrible in the role. It also seemed like the actors that reprised their roles for this film didn't seem to put in as much effort as they did in the first one.
The plot did not come close to living up to what the first one was, which was surprising being that both movies had mostly the same writing crew. I think what may have hurt it some was adding Mike Disa as a writer and as director because he hasn't done anything relevant in the writing and directing aspects of movies, sure he does have a decent Animation and Art background but this was his first full length film to write and direct. Now I will say that the animation did live up to my expectations of the first one gave it, but I didn't see why they needed to put it out in 3D because there was absolutely nothing 3D about this movie. I mean with 3D movies I expect a bunch of things flying out at me and things popping off the screen, but this movie didn't do much of that at all so I thought the 3D aspect was them just trying to make some more money and go with the trend that everyone else seems to be following at this point.
All in all I really wouldn't recommend spending money to see this movie. It definitely didn't live up to the first one….if you even liked the first one. I'd say that if you were a fan of the first one then don't see this movie because you will lose some respect for the first one and if you didn't like the first one then I don't know why you would even plan on seeing this movie.
© 2011 Jeff Siler