Honesty is best policy for David Letterman. Ratings soar after apologies.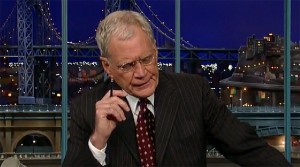 Last Thursday, David Letterman announced on his show that he had become a victim to an extortion plot. Details have since been revealed that CBS News producer Robert J. Halderman threatened to reveal sexual relationships between Letterman and Late Show staffers – including long time assistant Stephanie Birkitt.
Watch the David Letterman Extortion Details Video
Only hours before Thursday's show, Representatives for Letterman announced the details of the extortion, and 5.9 million viewers tuned in – over a million more than usual. Ratings carried over to Monday, as the number was still 5.7 million even after the weekend. This was over double the amount that tuned in for the Tonight Show with Conan O'Brien.
During his monologue Monday night, Letterman became the subject of his own jokes. Watch the video below –
Because of all the media attention being brought upon Letterman and the Late Show staff, Letterman has also taken the time to apologize to his staff and their families for the inconvenience that he has created –