Henry Selick Signs Deal With Disney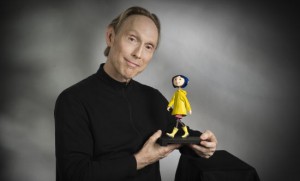 Coraline director Henry Selick has signed a long term deal that will see him to return to Disney. The deal will allow Selick to work from his own studio in the Bay Area on both original and literary properties. The director will be making stop motion features for the animation giant.
Selick got his start at Disney in the 70s, and even went to CalArts with now head of Disney animation, John Lasseter. "I first met John Lasseter when we were classmates at CalArts," Selick said. "I've watched with awe and amazement as Pixar created a new way to make animated movies with computers." Selick's career grew in a big way with A Nightmare Before Christmas, his directorial debut, on which he collaborated with Tim Burton. Selick's career took another big leap last year where he released the 3D animated hit Coraline, which earned an Oscar nomination for Best Animated Picture.
This is a great move for both sides. Selick gets to team up with Disney/Pixar, as well as old friends like Brad Bird and John Lasseter. Disney/Pixar gets the added experience of yet another top notch animator.  I can't think of any way this could go wrong.