Heather Graham Not Returning for "Hangover 2"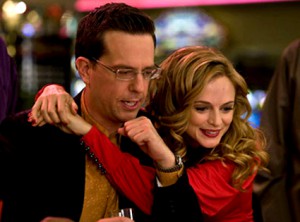 Ed Helms, Zach Galifianakis, Bradley Cooper, Justin Bartha, and even Ken Jeong are back for the sequel to the breakout comedy The Hangover, but the love interest of Ed Helm's character Stu is sadly going to be absent.
"Unfortunately Heather won't be in the sequel—they way the story unfolds doesn't allow any room for her character to show up. I don't want to reveal to much of the film, but once you see it you'll understand," said a rep from Warner Bros.
"I think Stu [Helms] should get her pregnant, and that she should do a pregnant strip dance," Graham said in a previous interview with E!Online. "I know it sounds wrong, but it sounds so right."
So, it looks like that genius piece of comedy won't be happening, which is shame because I'm pretty sure everyone would enjoy Heather Graham stripping, pregnant or not. Luckily the rest of the main cast is returning, and filming has already started in LA, and the production moves to Bangkok next month.
What do you think of this news? Let us know in the comments!