"Harry Potter and the Deathly Hallows" Split Point Revealed in Entertainment Weekly!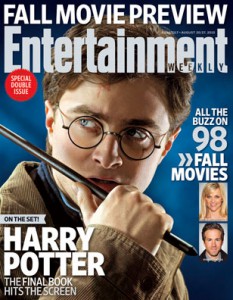 SPOILER ALERT: If you don't wish to hear any plot details of Harry Potter and the Deathly Hallows don't read any further.
Ever since the announcement to split Harry Potter and the Deathly Hallows into two films, it has been debated endlessly by fans on where the split point would happen.  Many points were considered, but the decided upon point, according to Entertainment Weekly is much later than most might have guessed.
Part I will end at about Chapter 24 of the book, with Voldemort gaining possession of the Elder Wand, one of the three Deathly Hallows that allow the bearer to conquer death.
This bit of information is revealed in Entertainment Weekly's annual Fall Movie Preview issue. In addition to this news, the issue includes new interviews with the cast, and a few other tidbits; including new photos of the highly anticipated film.
Part 1 of Deathly Hallows is set for a fall release date of November 19th, and the part 2 will be release July 15, 2011.
What do you think of the split point?  Too late? Too soon? Let us know in the comments!