Happy Birthday Dr. Seuss (Theodor Geisel) – Watch the Seuss Rap Video 'Wobble Down'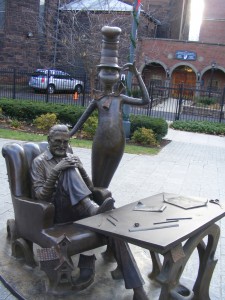 Dr. Seuss, who's real name is Theodor Geisel, was born on this day in 1904 – in Springfield, Massachusetts. Dr. Seuss touched the lives of countless children over past generations, publishing over countless Geisel published over 60 different books.
Some of the most famous Dr. Seuss books are: "The Cat in the Hat," "Horton Hears a Who," "How the Grinch Stole Christmas," "The Lorax," Hop on Pop," "Green Eggs and Ham," and "One Fish, Two Fish, Red Fish, Blue Fish." These are only a few of the incredible books that he wrote.
In honor of Dr. Seuss' birthday, the folks over at Half Day Today have created a rap video, celebrating the 106th birthday of the famous author. Watch below:
"IN CELEBRATION OF DR. SEUSS'S 106th BIRTHDAY: The Dr. Seuss Rap, "Wubble Down", a fresh rap video based on the rhyme scheme of Dr. Seuss's books, featuring hot ladies, flashy environmentally-friendly cars, bestiality, and literacy. Half Day Today is celebrating Dr. Seuss's 106th birthday the only way we know how: putting his characters in a rap music video and seeing what happens!"
Warning: NSFW language (not terrible, but they do drop the f' bomb).