GTA V Gameplay Reveal Trailer: Planes, Guns and Automobiles (Video)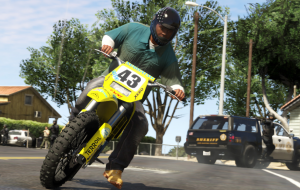 Rockstar just released the first gameplay trailer for Grand Theft Auto V. The trailer showcases the crazy but tantalizing complexity of Rockstar's newest creation. Things like: diving, flying, base jumping, gambling, investing, and driving are presented in classy, Rockstar fashion.
The trailer also introduces us to the three main characters and how players will be able to switch between them at any given time, a GTA series' first.
Watch the HD GTA V Gameplay video below:

Grand Theft Auto V will be released September 17 on Xbox 360 and PlayStation 3