'Girl Most Likely' Opens July 19! Enter to Win Passes to the St. Louis Advance Screening!
Enter to win a pass for two!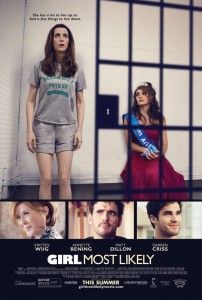 Kristen Wiig stars as Imogene, a failed New York playwright awkwardly navigating the transition from Next Big Thing to Last Year's News. After both her career and relationship hit the skids, she's forced to make the humiliating move back home to New Jersey with her eccentric mother and younger brother (Annette Bening and Christopher Fitzgerald). Adding further insult to injury, there's a strange man sleeping in her old bedroom (Darren Criss) and an even stranger man sleeping in her mother's bed (Matt Dillon). Through it all, Imogene eventually realizes that as part of her rebuilding process she must finally come to love and accept both her family and her Jersey roots if she's ever going to be stable enough to get the hell away from them.
Cast: Kristen Wiig, Annette Bening, Matt Dillon, Darren Criss
Director: Shari Springer Berman, Robert Pulcini
Girl Most Likely opens Friday, July 19!
Use the contest app below to "like" ReviewSTL on Facebook – then tweet, share, or comment for additional entries!
Winners will be chosen at random from all entries. Supplies are limited. Limit one (1) pass per person, passes admit (2) two. Sponsor's employees and their dependants are ineligible. Screening is overbooked to ensure capacity. Please refer to passes for any other possible restrictions. NO PURCHASE NECESSARY.
Screening will take place Wednesday, July 17 at Wehrenberg Ronnie's 20 Cine (7pm).