GRUDGE MATCH opens December 25! Enter to Win Passes to the St. Louis Advance Screening!
Enter to win a pass for two!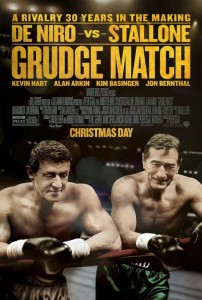 Oscar® winner Robert De Niro ("Raging Bull," "Silver Linings Playbook") and Oscar® nominee Sylvester Stallone (the "Rocky" films, "The Expendables") star as old boxing rivals who come out of retirement for one final match. Thirty years later, boxing promoter Dante Slate Jr., seeing big dollar signs, makes them an offer they can't refuse: to re-enter the ring and settle the score once and for all. But they may not have to wait that long: on their first encounter in decades, their long-festering feud erupts into an unintentionally hilarious melee that instantly goes viral. The sudden social media frenzy transforms their local grudge match into a must-see HBO event. Now, if they can just survive the training, they may actually live to fight again.
Cast: Robert De Niro, Sylvester Stallone, Kevin Kart, Alan Arkin, Kim Basinger, Jon Bernthal
Director: Peter Segal
Enter the contest below!
Winners will be chosen at random from all entries. Supplies are limited. Limit one (1) pass per person, passes admit (2) two. Sponsor's employees and their dependents are ineligible. Screening is overbooked to ensure capacity. Please refer to passes for any other possible restrictions. NO PURCHASE NECESSARY.
Screening will take place Thursday, December 12 at Wehrenberg Des Peres 14 Cine (7pm).