'Grown Ups 2' Opens July 12! Enter to Win Passes to the St. Louis Advance Screening!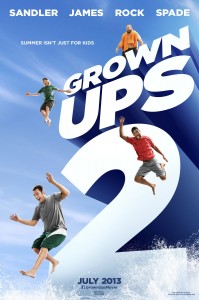 Enter to win a pass for two!
The all-star comedy cast from "Grown Ups" returns (with some exciting new additions) for more summertime laughs. Lenny (Adam Sandler) has relocated his family back to the small town where he and his friends grew up. This time around, the grown ups are the ones learning lessons from their kids on a day notoriously full of surprises: the last day of school.
Cast: Adam Sandler, Kevin James, Chris Rock, David Spade, Salma Hayek, Maya Rudolph, Maria Bello, Nick Swardson
Director: Dennis Dugan
Grown Ups 2 opens Friday, July 12!
Use the contest app below to "like" ReviewSTL on Facebook  – then tweet, share, or comment for additional entries!
Winners will be chosen at random from all entries. Supplies are limited. Limit one (1) pass per person, passes admit (2) two. Sponsor's employees and their dependants are ineligible. Screening is overbooked to ensure capacity. Please refer to passes for any other possible restrictions. NO PURCHASE NECESSARY.
Screening will take place Wednesday, July 10 at Wehrenberg Ronnie's 20 Cine (7pm).