Green Lantern Gets a Green Light! Production Starts in 10 Weeks!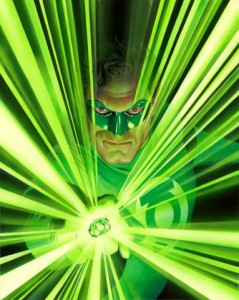 It is shaping up to be a good couple years for comic book fans.  In the next couple years you have Kick-Ass, Scott Pilgrim, Iron Man, The Green Hornet, Spider-man, Captain America,  and Thor movies coming out. That isn't including probably a few that I missed and ones that will be green lit in the coming months. Now we get to officially add Green Lantern to the ranks too.
SuperHeroHype.com is reporting that Green Lantern is slated to start its filming schedule in just 10 weeks.  This will put it well on target for its projected July 11, 2011 release date. The film is expected to be very effects heavy with over 1300 effect shots.
The film will star Ryan Reynolds as Hal Jordan, and will be directed by Casino Royale director Martin Campbell.
I'm excited for the film, but I still maintain that Reynolds would have played a better Flash than Green Lantern, but it doesn't dwindle my excitement too much. Reynolds is a charismatic actor who will at least be entertaining, if not faithful to the role of Hal Jordan. Having an A-list director like Martin Campbell hopefully means this won't be one of the by the numbers superhero films that have been released in the past few years.
Hopefully in late March and April we will start seeing some production photos released.