Go See "STREETBALLERS" Today, and Support St. Louis Filmmakers!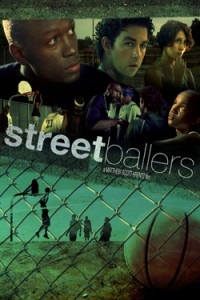 The St. Louis Premiere of "Streetballers" was last night at Ronnie's, and we had the pleasure of seeing this incredible St. Louis film.
I will preface this by saying that "Streetballers" is not just good for a St. Louis Film. Nor is "Streetballers" just good for an independent film. This film is just plain GOOD. The movie, that was shot entirely in St. Louis and by local filmmakers, is a beautify crafted film – tackling real issues and telling an intriguing story.
"Streetballers" is an Irish-Urban drama, focusing on the lives of two college basketball players. Although they look different, and come from different homes, the story shows us just how similar they are. Both of the main characters struggle with their own issues, but learn that they can help each other by playing off of the other's strengths. In the process, they become close friends, and their relationship tells a truly captivating story. No matter what struggles they have, and adversities they face – the one thing that will always be there for the two of them is basketball.
The movie tackles tough subjects, like racism, alcoholism, gangs and crime. But it does it in a way that is by no means "harpy" or "preachy." The way the story is told, by jumping back and forth between the friends and family dynamic of John and Jacob, is incredibly well done. The film keeps you interested, and encapsulates the two young mens' love for basketball – and the impact it has on both of their lives.
Support this St. Louis film, by purchasing tickets to a show at Ronnie's or the Tivoli this weekend! The future of this brilliant film depends on your support at the box office. You will not be disappointed!
For more information about the film, visit www.streetballersthemovie.com
Watch the trailer for "Streetballers"