GHOST RIDER: SPIRIT OF VENGEANCE Opens February 17! Enter to Win Passes to the St. Louis Advance Screening!
Enter to win a pass good for two!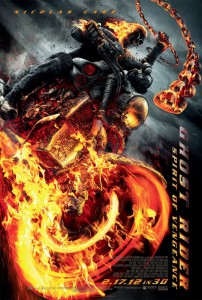 Nicolas Cage returns as Johnny Blaze in Columbia Pictures' and Hyde Park Entertainment's Ghost Rider: Spirit of Vengeance. In the successor to the worldwide hit Ghost Rider, Johnny – still struggling with his curse as the devil's bounty hunter – is hiding out in a remote part of Eastern Europe when he is recruited by a secret sect of the church to save a young boy (Fergus Riordan) from the devil (Ciaran Hinds). At first, Johnny is reluctant to embrace the power of the Ghost Rider, but it is the only way to protect the boy – and possibly rid himself of his curse forever. Directed by Mark Neveldine and Brian Taylor. Screenplay by Scott M. Gimple & Seth Hoffman and David S. Goyer. Story by David S. Goyer. Based on the Marvel Comic. Produced by Steven Paul, Ashok Amritraj, Michael De Luca, Avi Arad, and Ari Arad.
Cast: Nicolas Cage, Fergus Riordan, Ciaran Hinds
Director: Brian Taylor, Mark Neveldine
In order to enter the contest, become a fan of ReviewSTL on Facebook and share ReviewSTL.com with all your friends (click the "share" link on the bottom-left side of the page) – telling us what your favorite part from the original movie is! Then "like" the post to complete your entry. NO PURCHASE NECESSARY. While supplies last. Passes are available on a first-come, first-served basis.
One pass (each admits two) per person. Theater is overbooked to ensure capacity. Employees of participating sponsors are ineligible.
Screening is Thursday, February 16 at B&B Wildwood 10 (7pm).
Good luck! We hope to see you at the movies!
IN THEATERS FEBRUARY 17