Get to Know Alicia Vikander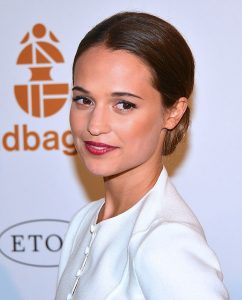 Every so often in Hollywood a brand new talent emerges and proves to have real staying power. Think of the likes of Jennifer Lawrence, Benedict Cumberbatch, and Lupita Nyong'o. Five years ago even an avid film fan might not have known all those names, or at least might not have been familiar with the respective actors' work. Now they seem like thoroughly established stars whose talents are beyond doubt. That's because "staying power" is tough to determine at a single point. Plenty of young actors and actresses look promising at one point or another, and the ones who stick around simply do so, while others fade away.
With this concept in mind, one up-and-coming actress who appears to be "sticking around" in a big way is Alicia Vikander. Though she's been acting for some time and previously appeared in a few major features such as Anna Karenina and The Fifth Estate, Ms. Vikander really exploded onto the scene in 2015, and it's beginning to seem like we'll be seeing her for many years to come. She's already won an Oscar for Best Supporting Actress (for her work in The Danish Girl), and she's just 28 years old. It's probably about time we film fans get to know her a little bit!
Per a brief biographical write-up at Glamour, Vikander was born in 1988 in Gothenburg, Sweden. Her parents were an actress and a psychiatrist, and she got into performance at a very young age—though her initial focus was ballet. She reportedly started dancing at age nine under the Royal Swedish Ballet School,and eventually moved to Stockholm in pursuit of this interest when she was only a teenager. And by the sound of things it might be this early venture that's partially responsible for the strong sense of maturity we can see in her work despite her young age.
That might be playing the part of psychologist a little bit. However, there's a wonderful video of Vikander posted at The Scene where she indicates that living away from home at such a young age was no easy challenge. Specifically, Vikander is talking about the first birthday she spent in Stockholm, and some of the lonely feelings that can come with being a performer studying abroad. It's an endearing clip from the actress, but it also points out something we perhaps don't always realize about professional performers, which is just how quickly their vocations sweep them up into the "real world" and away from more ordinary childhood lifestyles.
Sadly, an injury ultimately derailed Ms. Vikander's blossoming ballet career—though perhaps it was a blessing in disguise. She appears to have switched her interest to acting very efficiently, and excelled immediately. Vikander's first big break was on the Swedish TV show Pure, and by the time she was 24, she was playing opposite Keira Knightley in Anna Karenina.
Now, we know her more and more as a skilled and dynamic actress with a world of potential. Vikander had an enormously successful year in 2015, starring as a humanoid AI in the surprisingly effective Ex Machina and then breaking through in a major way with The Danish Girl. In between she also had some fun with the playful action film The Man From U.N.C.L.E.. This year she debuted as a new character in the Jason Bourne series and starred opposite real life boyfriend Michael Fassbender in The Light Between Oceans. And in the near future we'll see her in promising roles in films like Submergence and Euphoria (both 2017), and she'll assume the mantle of Lara Croft in 2018's Tomb Raider reboot.
It's certainly beginning to look like the sky is the limit for Alicia Vikander, and we can't wait to see what she has in store in her upcoming roles and beyond.