Get Your Own Personal Eulogy From Chris Rock – Death at a Funeral is Coming Soon!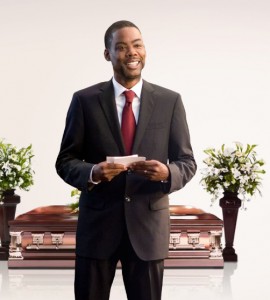 Ever want to have your own personal eulogy read by none other than famous comedian and actor Chris Rock!? If you have, it's your lucky day! Check out the new site dielaughingnow.com – in honor of Rock's new movie, "Death at a Funeral."
At the site, you can customize your own personal eulogy for friends and family, or even yourself! Then you can e-mail it to as many people as you want! It is a pretty clever promotion for the upcoming film, which opens in theaters nation wide on April 16th!
Synopsis:
A day in the life of an American family who come together to put a beloved husband and father to rest. As mourners gather at the family home, shocking revelations, festering resentments, ugly threats, blackmail and a misdirected corpse unleash lethal mayhem.