Get Low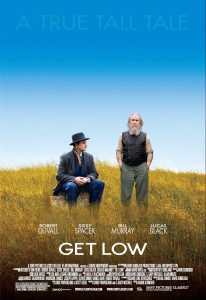 Set in 1930s, Get Low follows the story of Tennessee hermit, Felix Bush (Robert Duvall). Bush is a man feared by the nearby community because of his unseemly manner and mysterious past.  Rumors fly around Felix, people whisper that he is a murderer, but in truth Felix harbors secrets about his past no one can guess. When Felix comes up with the idea of a "living funeral" he throws the town for a loop. The arrival of an old flame, Mattie Darrow, who is now a widower, and knows Felix not as a crazy hermit, but "the most interesting man she ever knew".
To assist Felix with the living funeral is Frank Quinn (Bill Murray), the owner of a local funeral parlor, and his assistant, Buddy Robinson (Lucas Black), a young family man. They quickly make the event into the talk of the town, and the event of the season. Things get a bit messy as they continue to delve into Felix's past, and realize that he might have orchestrated the whole thing to let out his one final secret.
Get Low is fascinating to watch, but for one reason only, the performance of Robert Duvall as Felix Bush. His nuanced performance guides the film in what could have resulted in a tedious endeavor.  Duvall takes the character through his paces, making us love him, fear him, and pity him all at once.  It is his solid performance that makes us want to learn the mysteries of Bush's past, and without this performance it could have turned out completely different.
Aiding Duvall is a solid supporting cast including the seemingly always pitch perfect Bill Murray as the slick funeral parlor owner, who despite his love for money possess a good heart.  Joining them is veteran actress Sissy Spacek, who plays the widowed Mattie Darrow.  A big standout among the cast is Lucas Black, who holds his own with a cast of heavyweights. Not many people may recognize Black, but he has built up a solid career that started with a fantastic turn as Frank Wheatley in Sling Blade.  His ability to have a performance shine alongside people like Duvall and Murray speaks loads about his talent, and possible future within the industry.
Aaron Schneider has created a fantastic first time feature, but there are a few complaints. Get Low gets off to a very slow start, and it sometimes limps towards the finish line. Possibly with a bit of tighter editing this could have easily been fixed.  By no means does Get Low have to possess lightning quick editing, but a tighter focus would have been appreciated.
If you want to see a performance that will most likely be touted heavily during awards season in another few months, then you'll want to check out Get Low. This is the first shot in the best actor category, and Duvall hasn't won since 1982, despite a solid backlog of films.
Grade: A-