"Get Him To The Greek" HD Trailer Starring Jonah Hill and Russell Brand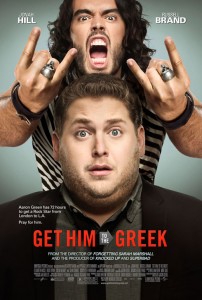 You may be surprised, but they actually made a sequel to Forgetting Sarah Marshall. Instead of focusing on Jason Segal's character again, they are basing the film around Russell Brand's rock star character Aldous Snow. I still can't decide if Jonah Hill's character is supposed to be the same character he played in the previous film as well. From the trailer, it doesn't seem like it. It doesn't even seem to address the fact that it has any ties to the previous film other than mentioning it is from the same director. I personally think Russell Brand is brilliant, but he's crass enough that some people won't like him. The British accent seems to really soften a lot of his harder edged charms. He has the caricature of a spoiled rock star down pretty pat. This film rides on the chemistry between him and Jonah Hill's character, if they don't click the film won't with audiences.
Synopsis:
An ambitious intern at a record company, Aaron Green (Jonah Hill) gets what looks like an easy assignment: Escort British rock legend Aldous Snow (Russell Brand) to L.A.'s Greek Theatre for the first stop on a lucrative comeback-concert tour. Snow , however, has different plans. Learning his true love is in California, the rocker vows to win her back before starting the tour, forcing Aaron to pull out all the stops to get Snow onstage in time.
Cast: Jonah Hill, Russell Brand, Rose Byrne, Sean Combs, Elisabeth Moss
Director: Nick Stoller
Genres: Comedy
Release Date: June 11, 2010